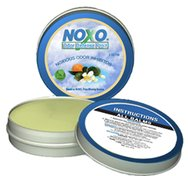 Philadelphia, PA (PRWEB) August 24, 2015
Olfactory Biosciences Corp (OTCMKTS: OLFC) today announced the availability to consumers of the only defensive odor product in the world. Heretofore only available to first responders, firefighters, military, police, emergency medical and homicide / forensics.
Initially funded by the Department of Defense and using plant extracts in NOXO Odor Defense Pro™ prevents the brain from smelling noxious odors by altering the brain's perception of the bad odors and changing it to a vanilla scent.
NOXO Odor Defense Pro™ is applied topically under the nose and the scent molecules in the gel impact the olfactory receptors of the brain. Odors that cause migraines, gagging, vomiting and more are inhibited so that those in contact with noxious and bad odors are able to focus on the performance of their job.
For more information on NOXO, https://noxoinfo.com/odor-safety/
NOXO Odor Defense Pro™ is immediately available at https://noxoinfo.com/odor-safety/ and is supplied in an 3 oz tin containing over 100 applications.
About Olfactory Biosciences Corp.
Olfactory Biosciences Corp.'s NOXO division is focused on developing a variety of products that can modify behaviors such as appetite, stress, anxiety, mood, memory, smoking and sugar cravings. The company's first of eleven products to reach commercialization was NOXO's Odor Defense™, which has the ability to alter the brain's ability to smell horrific odors. The odor is still there but you can't smell it. The brain does not however, register its normal reaction to it. The uniquely formulated NOXO ingredients are based on the advanced olfactory perception altering technology of all these new NOXO products.
Safe Harbor for Public Companies
Statements contained in this release that are not strictly historical are "forward-looking statements." Such forward-looking statements are sometimes identified by words such as "intends," "anticipates," "believes," "expects," and "hopes." The forward-looking statements are made based on information available as of the date hereof, and the Company assumes no obligation to update such forward-looking statements. Editors and investors are cautioned that such forward-looking statements involve risks and uncertainties that could cause the Company's actual results to differ materially from those in these forward-looking statements. Such risks and uncertainties include, but are not limited to, demand for the Company's products and services, our ability to continue to develop markets, general economic conditions, our ability to secure additional financing for the Company and other factors that may be more fully described in reports to shareholders. Olfactory Biosciences Corp., "The Company" currently does not file periodic filings with the Securities and Exchange Commission but will publish financials on the Olfactory Biosciences Corp. website as they become available.
Richard Stevenson
Olfactory Biosciences Corp., Inc
333 E. Lancaster Ave.
Suite 317
Wynnewood, PA 19096
USA
Tel: 484-278-1626
Fax: 866-559-1837
Email: support(at)noxoinfo(dot)com