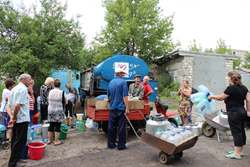 "People have exhausted all their personal resources, they have worn out the hospitality of their host families, and they are desperate for help."
Kyiv, Ukraine (PRWEB) August 24, 2015
Mercy Corps is one of the very few organizations working to bring humanitarian relief to civilians on the front lines of the conflict in Luhansk Oblast in the east of Ukraine, where violence is fueling a continuing humanitarian crisis. Since conflict erupted last year, 1.4 million people have been forced to flee their homes, and 5 million people are in urgent need of humanitarian assistance.
"As Ukrainians around the world celebrate the nation's independence day – August 24 – more and more people are suffering because of violence in the east," says Stu Willcuts, Mercy Corps' country director in Ukraine. "People have exhausted all their personal resources, they have worn out the hospitality of their host families, and they are desperate for help."
In just the last month, 33,000 newly displaced people have registered for support. Mercy Corps has set up and runs a telephone hotline that is advertised in newspapers and on posters throughout Luhansk Oblast, eastern Ukraine. Those who need food, water and other assistance can call the hotline.
"As winter approaches, Mercy Corps is working hard to restore war-damaged homes in government-controlled areas," says Willcuts. "More than 13,000 homes throughout Ukraine are in need of repair. We want to ensure that each family has at least one dry, winterized, warm room that can be used for shelter."
With funding from the USAID Office of Foreign Disaster Assistance and the World Food Program, Mercy Corps' teams have also provided food, water and sanitation services to more than 100,000 people in Ukraine towns controlled by non-government forces, with plans to reach a total of 750,000 people by the end of 2015.
To support Mercy Corps' response to this and other humanitarian crises around the world, donate at https://www.mercycorps.org/donate.