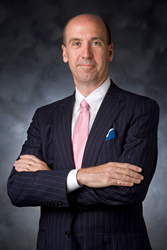 In order for organizations to discover their future they have got to start asking questions. Not necessarily answer them but simply ask them.
Minneapolis, MN (PRWEB) August 26, 2015
Playwright Eugène Ionesco once said, "It is not the answer that enlightens but the question." Futurist and trend expert Jack Uldrich has taken that notion and turned it into a powerful new workshop. Uldrich says, "In order for organizations to discover their future, they have got to start asking questions. Not necessarily answer them, but simply ask them. Answers are focused, at best, on the present and, at worst, the past. But questions, by their very nature, are focused on the future."
Today, Uldrich will deliver his latest thought-provoking workshop, "Question the Future." He will share with his audience, a private Fortune 500 financial service organization in Minneapolis, how the art and science of framing and asking better questions will not only help the organization survive tomorrow's rapidly changing environment but thrive by providing the key insights necessary for confidently creating their own future.
Uldrich will begin the workshop with his 45 minute keynote; then create a comprehensive questionnaire that then the group can put to use regarding the organization's future and identify possible areas for innovation; and lastly develop a framework for how the questions can be used on an ongoing basis to probe the horizons of tomorrow for future both threats and opportunities.
Uldrich encourages all of his clients in a wide variety of industries ranging from agriculture to accounting to ask questions such as, "'What new trends must we pay closer attention to?'; 'What don't we know?'; and 'What is the danger of not changing?'"
Albert Einstein was once asked if he only had an hour to solve a problem--and his life depended on finding the right answer--how would he spend the hour? His reply: "I'd spend the first 55 minutes making sure I was answering the right question." Uldrich says, "The organizations who take this workshop are really giving themselves a huge gift--and that is four hours to focus solely on asking the right questions for the future of their company."
When his client's organizations need to change in order to better position themselves for the future, Uldrich says, "Questions are one of the most powerful tools they can utilize. Initially questioning the status quo may be uncomfortable, but once people get the hang of it, the notion of getting 'curiouser and curiouser' can lead to great and innovative outcomes. Questions also create a really creative atmosphere, whereas answers and solutions can narrow the scope of the dialogue."
An expert in change management, Uldrich has served as an advisor to Fortune 1000 companies and has spoken to hundreds of businesses and organizations, including General Electric, General Mills, the Young Presidents Organization (YPO), Pfizer, Fiatech, Invitrogen, The Million Dollar Round Table, AG Schering, Imation,Touchstone Energy, the Insurance Service Organization, the National Kitchen & Bath Association, the National Paint & Coatings Association and the European Association for International Education in Istanbul.
Following his workshop today in Minneapolis, Uldrich will travel to Nashville, where he will deliver his keynote "The Big AHA: How to Future-Proof Your Business Against Tomorrow's Trends, Today" to the FCCServices 2015 RAAW Conference on August 31st.
To learn more about Jack, visit his website.