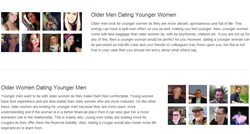 We have the seeming point: Never Mind the Age Gap!
(PRWEB) September 06, 2015
AgeMatch.com, the leading and largest website in age gap dating, stands firm in the fact that age is only a number. Age gap dating has always been a controversial subject, but this hasn't stopped May-December relationships from blossoming. Younger women looking for older men or older women dating younger men is nothing new in society. Older men often find their vitality returns when dating a younger woman, and older women discover themselves opening to new and exciting experiences with younger men.
"Age gaps work when the gap increases the likelihood of kindness and generosity, and work against the relationship when they don't," says Brendan Madden in an article with Irish Times. "An older partner may be more appealing if the younger partner can't find these traits in their peer group."
AgeMatch.com is committed to finding love for people who want a relationship with someone significantly older or younger than themselves. To find a match, please visit: http://www.agematch.com.