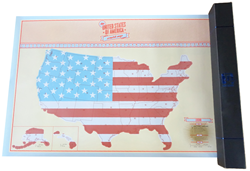 This is a fantastic map that reveals the places you have visited and is supplied in a high quality material
(PRWEB) August 25, 2015
Each time a traveler visits a new city or state, they can scratch the map and have a better insight of how much of USA they have discovered. This is without a doubt an amazing gift for ambitions young adventurers and the veteran road warriors around.
During the launch of the Scratch Off Map U.S., Travel Inspired founder M. C. Payton outlined the concept and the features besides the design. "They say a journey of a thousand miles begins with a single step. At Travel Inspired, we say it begins with a single scratch. Today, we present unto you a personalized map that features the great United States, which you can use to scratch off the locations you've visited to reveal the geographical details and the impressive colors underneath. The top layer of the map is made up of stars and stripes designed foils for easy scratching. This is a fantastic map that reveals the places you have visited and is supplied in a high quality material", said Payton.
 
"The scratch map forms an excellent visual reminder of where you've visited and is great for traveling person in your life. Your journeys are going to be awesome serving as a unique visual reminder of your traveling adventures. You will be inspired to visit the states not yet covered, a continual work in progress" said Payton
 
Travel can make the world feel quite smaller but also more grand and beautiful. This is exactly how this USA map presents it. A closer review shows that the scratch map is a large high-quality wall map that features stars and stripes top foil layer. You simply scratch off the areas or places you have visited and reveal a whole new world. The map features vibrant geographical details, and the result is an entirely unique and personalized map.
 
As a reward for the launch, the Travel Inspired founder M. C. Payton announced that there are limited discounted coupons available online to the lucky winners that they can use to redeem and get the map at discounted price: O59OGFGG
Those purchasing the map via online stores such as Amazon will also be assured of a 60-day money back guarantee. For more exclusive discounts and news, check out Travel Inspired's Facebook fan page.
You can learn more about it through Amazon here: http://www.amazon.com/Scratch-Off-Map-USA-Stories/dp/B00Y0SP8U0/
This map comes in a sturdy natural card tube and doesn't seem to be able to get damaged in the rucksack or suitcase and takes petite space of one's precious luggage space. It is an awesome gift for the intrepid traveler in your life and comes packaged in a luxury cupboard presentation tube.