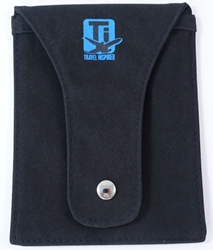 The bra stash attaches either to the strap of your bra or the inside of your panties. It can contain folded bills, coins and any other relevant travel documents
(PRWEB) August 25, 2015
It is a travel bra stash that serves as a hidden money belt or a travel leg wallet. It is a small pocket hidden underneath clothing that is used as a precaution against theft of your personal documents while traveling.
 
The product is the first of its kind engineered by its hidden undercover pocket that keeps travel documents and personal identification items out of sight. Their new product is a simple hideaway pouch that can slip into our belts or bras and conveniently tucks into the waistband of the user's pants. In addition to its sleek design, this travel bra stash is comfortable against the skin and secured against theft.
 
During its launch, the product launcher M. C. Payton outlined the concept and performance behind the stash bra. "We should not risk losing valuables to pickpockets! Keep them under cover when traveling. This is one of the travel accessories that you must have. You must protect your passport and valuables when traveling. Pickpockets are way better than we can imagine and in some countries, they seem to outnumber the tourists. We should keep our valuables out of pockets and purses to avoid the risk."
 
Payton went further to outline the design and working of the travel bra stash: "The bra stash attaches either to the strap of your bra or the inside of your panties. It can contain folded bills, coins and any other relevant travel documents. The material is made of superfine fiber that is very comfortable against your skin during travel", said Payton.
A closer review of this product shows that it is moisture-proof and anti-microbial fabric. It has a snap closure, and this new design holds valuables without calling the attention of the thieves. The hand-washable lingerie fabric feels soft against skin and snaps easily onto bra straps.
 
Travel Inspired is giving this pocket bag at a 25% discounted price in celebration of its launch. The coupon is TGO9ACT3. For more exclusive discounts and news, check out Travel Inspired's Facebook fan page.
You can learn more about it through Amazon here: http://www.amazon.com/Travel-Bra-Stash-Hidden-Pocket/dp/B00YN75BSW/
This product is durable yet discreet, and it is great for international travel. It is lightweight and has moisture-wicking and breathable back panel to help the user stay comfortable. All of Travel Inspired's products come with a free exclusive bonus report and a 60-day money back guarantees.