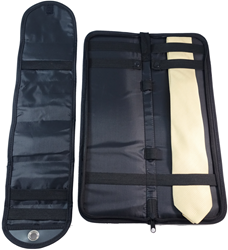 Our travel tie case and travel tie roll have been designed to take a beating travel, keeping the ties straight and protecting them as much as they can
(PRWEB) August 25, 2015
During the launch of the products, founder M. C. Payton outlined the features and working of the travel tie case and the tie roll necktie organizer. "Travel in style in men's handcrafted well made and of high quality, which is perfect for every man to dress in style and a travel tie roll that is portable and saves tons of space. The travel tie case easily fits four ties for your travel needs and the travel tie roll is quite lightweight, allowing you of hordes of extra spaces. We all know that keeping ties in a tip top shape on a business trip can be difficult. However, these products come as a great travel gift for the traveling businessman and they no longer have to worry about the creases that might happen during transportation.", said M. C. Payton
 
"When an order is made, not only will the customer receive the travel tie case that at least holds four ties, but they will also receive the travel tie roll that fits one tie as a bonus. Our travel tie case and travel tie roll have been designed to take a beating during travel, keeping the ties straight and protecting them as much as they can thus allowing you to focus on other important issues of your travel", said Payton
 
To celebrate the new travel tie case + tie roll, Travel Inspired is offering a 25% discounted coupon online for a limited period: 8BP6IEFG
The lucky travelers can now redeem these coupons and purchase the travel tie case at a discounted price. All travelers who buy the tie case will be assured of a free exclusive bonus report on how to make money while traveling the world, and 60-day money back guarantee without questions or hassles, just in case a customer has an issue with the order. For more exclusive discounts and news, check out Travel Inspired's Facebook fan page.
You can learn more about it through Amazon here: http://www.amazon.com/Travel-Tie-Case-Roll-Organizer/dp/B00YMMXPQS/
Travel Inspires seems to have raised its ground a bit higher by making packing for trips more organized and efficient aimed at the final destination. Before starting any journey, it is always a good idea to research the conditions and requirements for your trip and make a checklist of the things that will be required. Travel tie case + tie roll seem to be the perfect items for the traveling businessmen and save tons of space while protecting ties from getting dirty and creases.
 
Reviews show that the travel tie case is very lightweight and doesn't take much of the traveler's stuffed luggage. It is very compact for travel and leaves good space for other travel accessories that one may need to bring along in their trip.