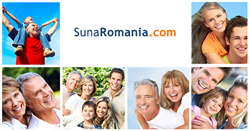 Atlanta, Georgia (PRWEB) August 26, 2015
Even after moving abroad, Romania remains the place Romanian expats call "home". They have left their mother country in search of a better life, to work or to study. But they still keep a close relationships with their family and friends who are still living in Romania, that's what SunaRomania.com study shows. But how often do Romanian expats call home? And how much time do they spend, on average, when engaged in a phone conversations with Romania?
SunaRomania.com study reveals Romanian expats calling patterns:

they call home at least weekly;
they call mostly mobiles; although the rate for calling landlines is lower, a trend which is strongly influenced by the use of landline phones in Romania, which registers a significant decrease in the past 10 years
on average, a call lasts 11 minutes
they talk more in the cold season than in the summer
In close relationship with religious holidays, there were identified 4 peaks when calls are more frequent and last longer:
1. Easter (this way Romanians can wish "Paste Fericit" - "Happy Easter" to everyone back home)
2. Christmas (it's during the Holidays season when they try as much as possible to replace a gift with a long conversation over the phone)
3. New Year (to wish "La multi ani" and send their prosperous year blessings to all their family members)
4. Mother's Day (because no matter how long the distance, or how old they are, Romanians miss their moms).
SunaRomania.com offers various services expats may use to get in touch with their loved ones: international calls (voice credit), mobile recharges and virtual numbers. The services Romanian expats use more often are the calling service, then the mobile recharge, a service they use to top up the mobiles of their loved ones.
The Voice Credit service SunaRomania.com offers is friendly, intuitive, and works just like any other prepaid calling card, while offering all the benefits of an online service: calling history, automatic renewal, and incredibly low rates: only 1.5¢/min to call landlines and 3.9¢/min to call mobiles etc. Calls may be placed:

From any landline, mobile or even payphone in the world, through local or toll free access numbers.
Calls may also be placed through the app called KeepCalling, which is not chargeable. The iOS and Android applications may be used to call without having to dial any access number, and even any phone number at all. Once logged in the app, customers can use their phone Contacts to call.
From any PC with Internet connection, through the Web Call app available in customers' accounts.
In case Romanian expats call home on a regular base, they may use the Monthly Plan product offered by SunaRomania. Monthly plans are monthly subscriptions that renew automatically once every 30 days.
Even if calls are a great way to get connected to family and friends still living in Romania, Romanians living abroad can also send international top ups, using the Mobile Recharge service. Orange, Vodafone and Telekom mobile top-ups are available, with values ranging from $6.12 to $61.25.
The Virtual Number subscription is a service that allows all Romanian expats living abroad feel closer to home and receive calls from Romania on their own phone for only $0.99 in the first month of use.
Romanian expats' calling patterns show that no distance is too long in case you want to stay in touch on a regular basis, after moving abroad.
About SunaRomania.com
SunaRomania.com is an interactive website designed by KeepCalling, a global telecommunications company registered in 2002 in USA. Presently, KeepCalling provides its services to hundreds of thousands of consumers and businesses, with a focus on customer satisfaction. KeepCalling has been listed by Inc 5000 as one of the fastest growing companies in the USA for 5 consecutive years. In 2015 the company registered a revenue increase of over 200% from 2011 to 2014.