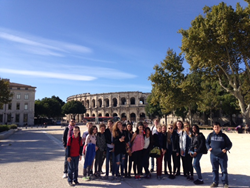 A tailor-made school language trip, such as those offered by leading school tour operator Halsbury Travel, gives teachers the opportunity to provide their students with inspirational language experiences.
(PRWEB UK) 25 August 2015
The big news story to come out of A-Level results day was the overwhelming popularity of the 'traditional' subjects, such as maths, science, history and geography, as reported by the BBC on 5th August 2015. These, along with other 'facilitating subjects' have fast become the most popular to study for A-Level. However, one such group of 'facilitating subjects', modern foreign languages, was noticeably absent from the list of increasingly popular choices. The decline in the popularity of modern foreign languages was also echoed in the GCSE results (as reported in the Guardian on 20th August), with steep drops in the numbers taking French, German and Spanish. Why are Britain's young people deciding not to study languages at school?
Leading school tour operator, Halsbury Travel, is concerned that part of the issue is that the main motivation to take a 'facilitating subject' at GCSE, AS and A2 Level is predominantly the idea that gaining the top grades in these subjects is the best path to a good university place, and that over recent years it seems to have become more difficult to gain these top grades in modern foreign languages compared to other 'facilitating subjects', particularly at A-Level. There was, in fact, so much concern surrounding this that Ofqual launched a report (published in September 2014) and announced that exam boards would be required to make changes ahead of this year's summer exams.
This resulted in a general improvement in the proportion of students achieving an A* grade, although the actual uptake in languages at A-Level has continued to dip, which may indicate that the concern remains among students that taking languages at A-Level is a 'risk' in terms of the grades they can achieve.
Halsbury Travel is also concerned that the serious drop in students taking languages at GCSE may also indicate another problem - that young people still do not understand or believe that languages will open many doors for them. In order to improve the uptake in languages, it may not simply be enough to 're-jig' the examinations – serious work must be undertaken to change the attitudes of young people towards languages. Feedback that Halsbury Travel has received from teachers indicates that arranging exciting school trips can be an effective way to illustrate to students how important languages are, both for their own lives and for the national economy.
As a school tour operator founded by a former French teacher, Halsbury Travel firmly believes that Britain needs more young people who are fluent in languages and that being able to speak another language will also benefit young people on a personal level, allowing them to travel and improve their intercultural understanding, whilst at the same time opening up opportunities for them in what is an increasingly global jobs market.
A tailor-made school language trip, such as those offered by Halsbury Travel, gives teachers the opportunity to provide their students with inspirational linguistic experiences that will ignite a passion for the language and encourage them to view the subject as one that will create opportunities for them. Curriculum-based visits could include trips to local companies and organisations, which will demonstrate this to students.
In addition to demonstrating the benefits of mastering a foreign language, a school language trip will also give students the opportunity to practise using the language by communicating with native speakers. Halsbury Travel offers experiences suited to all groups, from primary school to A-Level. By engaging successfully with locals in the target language, students will improve their skills and their confidence, thereby minimising the 'risk' factor further and potentially encouraging them to see languages as a viable route both to university and their future career.
Halsbury Travel was founded in 1986 by former French teacher Keith Sharkey, who passionately believes in the educational value of school travel. Still independently owned, Halsbury Travel is a family-run business with two generations of the Sharkey family now working for the company, supported by a dynamic team consisting of former teachers and school travel specialists. Family values are core to the business, with honest advice and quality of service key to what makes Halsbury Travel unique in the school travel market.