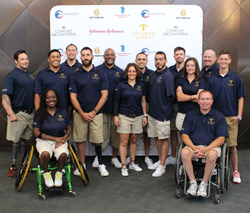 New York, NY (PRWEB) August 25, 2015
The inaugural Triumph Games officially kicked off with an Opening Ceremony that was attended by hundreds of corporate and non-profit partners, friends, family, and veteran supporters from the New York City area. The event was hosted by Goldman Sachs at their New York City global headquarters. Goldman Sachs has long been a leader in supporting veteran initiatives. The event was co-hosted by Patrick Murphy, Former Pennsylvania Congressman, Iraq War Veteran, host of MSNBC's 'Taking the Hill', and Under Secretary of the U.S. Army nominee, and Willie Geist, co-host of NBC's TODAY and MSNBC's Morning Joe. Other speakers included retired Brigadier General Loree Sutton, Commissioner of the Mayor's Office of Veterans Affairs, and Johnson & Johnson Human Performance Institute's Founder and CEO Dr. Jim Loehr.
The Triumph Games http://www.2015TriumphGames.com, has a mission to bridge the military-civilian divide by inspiring and engaging broad audiences of Americans who know little about veterans or military service. The Triumph Games focuses on veterans' success and triumphs, not on loss and crisis, authentically telling remarkable stories that connect universally with civilians, enabling the conversation to continue past, "Thank you for your service."
The selected Terrific 12, or T-12, athletes have all medaled nationally, or internationally in their sports. Each has overcome catastrophic injuries through sports and perseverance. They represent the best in the human spirit, and are an inspiration to all Americans. The 12 athletes and 2 alternates, whose military service represents the Army, Navy, Air Force and Marines, have been deployed dozens of times to Iraq and Afghanistan. They have been training for the past 60 days to prepare for the Triumph Games competition events.

The Round 1 competition will be a triathlon where the Terrific 12 athletes will test their physical and mental endurance at LeFrak Center Lakeside at Prospect Park, Brooklyn, NY on August 25, from 6:30-9:00a. This event is free and open to the public. The Terrific 12 athletes will compete in a Cycle Race, Kayak Obstacle Course, and Rifle Shooting Competition.
The Round 2 competition will be video e-gaming where the Terrific 12 athletes will test their mental agility on the popular game Hearthstone at the Times Square Arts Center Theater (43rd & 8th) and live streamed online on August 27, 6:00-8:30p. Tickets are free at the door – first come, first served.
The Round 3 competition will be motorsports where the Terrific 12 athletes will test their agility driving specially modified ROUSH Performance Stage 2 Ford Mustangs at the Wilzig Racing Manor in Craryville, NY on August 29, 10:00a-2:00p. This event is by reservation only.
"Thanks to the generous support of our partners, the Triumph Games athletes can compete in New York's finest locations. Goldman Sachs, the LeFrak Center at Lakeside Prospect Park, Times Square Arts Center, Wilzig Racing Manor, Al Roker Entertainment and EMC Outdoor have gone above and beyond the call of duty to provide an unforgettable experience and backdrop for the television special." said Triumph Games Co-Founder and CEO, Mary Hagy.
The Triumph Games can be followed at @TriumphGames15, and #TriumphGames.and http://www.facebook.com/pages/Triumph-Games/1095922937089801
About OurVetSuccess®
OurVetSuccess, producer of the Triumph Games, is dedicated to increasing positive public awareness of successful military veterans. By working together with businesses and leveraging the media to share success stories, OurVetSuccess is changing the public perception of the US veteran population to one of not only honor, but also leadership and success.
About LeFrak Center Lakeside at Prospect Park:
The LeFrak Center Lakeside spans 26 acres in Prospect Park and offers seasonal recreational activities including ice-skating, roller-skating, splash pad, bike rentals, and boat rentals. Lakeside's programming features a skate school and events for children, families, tweens, and adults as well as year-round dining at Bluestone Café. Opened in winter 2013, Lakeside was a $74 million restoration project by the Prospect Park Alliance. Lakeside is managed and operated by Upsilon Ventures who create one-of-a-kind destinations and attractions to unlock revenue-generating opportunities and produce innovative permanent/temporary platforms that engage clients, partners and the community. For more information please visit:
http://www.lakesidebrooklyn.com http://www.prospectpark.org http://www.upsilonventures.com
MEDIA CONTACT: Erica Rubach Erica(at)1080communications(dot)com 267-258-7239
PHOTOGRAPHY AVAILABLE