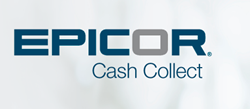 We were looking for a way to improve our cash collection process and reduce average days outstanding without having to hire another full time employee to call and email customers. Epicor Cash Collect has allowed us to achieve all of our objectives
Chardon, Ohio (PRWEB) August 25, 2015
e2b teknologies, an Epicor Alliance Partner and publisher of Epicor Cash Collect, today announced that a manufacturer of ergonomic office furniture has chosen Epicor Cash Collect to automate the Epicor accounts receivable management process to reduce days sales outstanding and increase cash flow.
With over 40 years in business, the manufacturer provides ergonomic solutions to customers including Fortune 1000 companies, large learning institutions, State and Federal Government departments, and more. Prior to implementing Epicor Cash Collect, the company used their Epicor ERP system to manage accounts receivable; but without automation, this proved to be a long and arduous manual process that led to a large number of late invoices and slow cash flow.
Before hiring on an additional employee to increase receivables and cash flow performance, the company decided to look into alternative solutions that could help them increase the productivity of their current staff. It was this search that led them to Epicor Cash Collect.
"A lot of companies will hire additional employees in hopes to become more productive," said Lynne Henslee, President of e2b teknologies. "But hiring is expensive and not always the best option for a company that is trying to increase cash flow. With Epicor Cash Collect automating their most time consuming and repetitive tasks, the company's collectors now have more time and energy to spend on issues that require a more personal touch. It's like having another employee without the additional overhead."
Epicor Cash Collect is a robust solution that integrates with Epicor ERP to extend the accounts receivable module within the ERP system with automation and built-in best practices. Features in the software allow users to automate payment reminder emails, prioritize collection activities, archive customer email conversations, automatically schedule follow up activities, manage disputes, forecast cash, centralize critical information, manage credit information, and more. According to industry research companies who choose to utilize a system like Epicor Cash Collect can see results including an average 20% reduction in days sales outstanding (DSO), 25% reduction in past due receivables, and a 15% reduction in bad debt.
"We were looking for a way to improve our cash collection process and reduce average days outstanding without having to hire another full time employee to call and email customers," said the company's Chief Operations Officer. "Epicor Cash Collect has allowed us to achieve all of our objectives with features like the automated email reminders. Our customers are responding very well to the system and we are very happy with our decision to implement Epicor Cash Collect."
About Epicor Cash Collect
Epicor Cash Collect (http://epicorcashcollect.com) is an integrated accounts receivable management module published by e2b teknologies for Epicor ERP providing automated customer communication, prioritized activity lists, and customized templates to streamline every aspect of the accounts receivable, credit, an collections process helping companies get paid a lot faster and easier with an average return on investment in as little as two months.