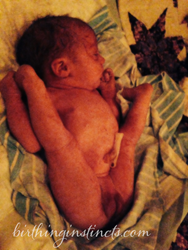 A collaborative model between obstetrician and midwife can provide better results than what is occurring today.
Los Angeles, CA (PRWEB) September 01, 2015
Long time advocate of informed consent and the normalization of birth, Dr. Stuart Fischbein recently published findings from 56 months of attending a series of 135 out of hospital births including singleton, VBAC, breech and twin deliveries. Dr. Fischbein's clinical series, published July 27, 2015 in the peer reviewed Obstetrics & Gynecology International Journal, includes clear data that demonstrates improved overall safety and advantages of obstetric care in an out of hospital setting. The article also reveals a lower than typical transfer of care risk and successful vaginal deliveries of vaginal birth after cesarean (VBAC), breech and twin deliveries.
The published clinical series of 135 women who gave birth to 147 live born infants revealed:

Cesarean section rate was 5.9%, significantly lower than LA County average 25-40%
96 were singleton cephalic births (head-first)
27 singleton breech births, 22 of 27 (81.5%) delivered vaginally
12 sets of twins, 11 of 12 (91.7%) of twin pregnancies delivered at home
32 were trials of labor after cesarean (TOLAC) of which 30 were successful vaginal births after cesarean (VBAC) (93.8%)
Dr. Fischbein states, "Pregnant women deserve to know that midwifery style care, both in and out of hospital, is a reasonable choice. A collaborative model between obstetrician and midwife can provide better results than what is occurring today." Clients who in hospital care would automatically face a cascade of interventions or non-elective cesareans turned to Dr. Fischbein for the chance to deliver safely and naturally in an out of hospital setting. "Home birth is not for everyone but informed choice is," he writes, "This series of 135 home deliveries by a team of obstetrician and midwife clearly shows there is a model that can do better than what we have now as the American standard."
About Dr. Stuart Fischbein: Dr. Stuart Fischbein, MD OB/GYN has been in private practice of Obstetrics and Gynecology in Southern California since 1986. He is co-author of Fearless Pregnancy, three time recipient of Physician of the Year and Lifetime Achievement Award from DASC (Doula Association of Southern California). Further information, blog, podcasts and testimonials can be found at BirthingInstincts.com