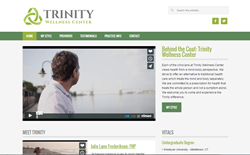 Hopefully, Screen the Doc's 'sneak peek' of how a physician looks, talks and acts helps reduce some of the uncertainty and anxiety many patients feel when faced with a first-time visit to a new practice.
(PRWEB) August 25, 2015
Virtual platform Screen the Doc recently launched, with some healthcare experts saying it could change how hospitals and ambulatory practices reach and retain prospective patients. The new recruitment and communications tool combines character-based videos and other storytelling techniques on a microsite built to humanize physicians and providers, while building patient rapport.
"A growing number of people are turning to the Web to find a physician or provider they can trust who has good bedside manner. Many times, they're greeted by a static mugshot and a list of academic credentials," said Stephen Bon, lead developer of Screen the Doc. "Who can judge a doctor's personality and bedside manner by just that alone?"
Creators of Screen the Doc set out to address three critical areas overlooked by many hospital and ambulatory practices in their physician relations outreach:
•Patients rank bedside manner as one of the top deciding factors when choosing a physician.
•80 percent of online searches are for health and provider information, according to the Pew Research Center's Internet and American Life Project.
•Many existing hospital and ambulatory practice websites lack personal, human-interest information on their physicians. Instead, they present medical credentials, a standard headshot of the doctor(s) and details about facility operations.
A survey by the American Board of Medical Specialties (ABMS) found that 95% of participants believe bedside manner or communication skills were very important or important as a key factor when choosing a doctor. This ranked ahead of board certification, hospital affiliation, place of training and office location.
"People want to 'know' the personality of their physician or healthcare provider before committing," said David Frederiksen, director of development for Screen the Doc. "What does he or she look like? How does he or she treat others? Who is he or she beyond the hospital or practice walls?"
The concept for Screen the Doc first came about in 2011, with early years of development spent researching online usage trends among patients and shifts to a more digital healthcare industry.
"The language of the Internet has changed leaps and bounds from even five years ago," Bon said. "People want fast, personal interactions presented in an array of communication styles."
"Back in the day, it was all delivered as the written word. Now, Internet users want video, visuals, responsive features and more. Same goes when they're shopping for a healthcare provider."
In addition to cinematic-quality character videos, the Screen the Doc platform also includes sections titled Behind the Coat and My Style, as well as blog and testimonials for further provider personalization.
"Hopefully, Screen the Doc's 'sneak peek' of how a physician looks, talks and acts helps reduce some of the uncertainty and anxiety many patients feel when faced with a first-time visit to a new practice," Bon said. "Now you know what to expect when walking through the doors."