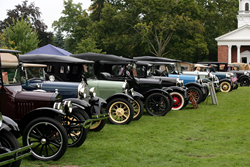 Dearborn, Mich. (PRWEB) August 27, 2015
On September 12 – 13, 2015, the grounds of Greenfield Village will be filled with the sights, sounds and smells of the vehicles that started America's love affair with the automobile during Old Car Festival. In its 65th year as America's longest-running antique car show, there will be more to see than ever before with more than 900 vehicles from the 1890s through 1932 including gas, steam and electric-powered automobiles, motorcylcles, bicycles, campers, and a special display of luxury brand automobiles.
The early automobile industry began by producing expensive novelties for the wealthy until vehicles like Henry Ford's Model T transformed the automobile into a reliable and affordable necessity. This year, The Henry Ford will be highlighting the cars that were dedicated to luxury rather than necessity in a special display on the Village Green in Greenfield Village. As part of the display, The Henry Ford will be bringing out its own 1915 Cadillac from its world-premier automotive collection, the first mass-produced car with a V8 engine inside.
Throughout the weekend, guests can speak with the proud owners of the vehicles themselves, watch as the drivers show off their skills in early motor contests and witness the assembly of an actual Model T in minutes. On Main Street, guests can join The Henry Ford's Curator of Transportation, Matt Anderson along with automotive historians Marty Bufalini, Ross Hill, David Liepelt and Derek Moore as they provide information on the vehicles during the pass-in-review parades. Near the Scotch Settlement School, roadside historian Daniel Hershberger will present a special presentation on early roadside camping amongst an exhibition of 1920s auto touring vehicles.
On Saturday, Greenfield Village will be open until 9 pm for a special gaslight parade and a fireworks show to close out the evening. Old Car Festival is free with membership or admission to Greenfield Village; tickets are $25 for adults, $22.50 for seniors (62 and up) and $18.75 for youth (5-12). Children under five are free. For more information, call (313) 982-6001 or visit http://www.thehenryford.org.
About The Henry Ford
The Henry Ford in Dearborn, Michigan is an internationally-recognized cultural destination that brings the past forward by immersing visitors in the stories of ingenuity, resourcefulness and innovation that helped shape America. A national historic landmark with an unparalleled collection of artifacts from 300 years of American history, The Henry Ford is a force for sparking curiosity and inspiring tomorrow's innovators. More than 1.6 million visitors annually experience its five attractions: Henry Ford Museum, Greenfield Village, The Ford Rouge Factory Tour, The Benson Ford Research Center and The Henry Ford IMAX Theatre. A continually expanding array of content available online provides anytime, anywhere access. The Henry Ford is also home to Henry Ford Academy, a public charter high school which educates 485 students a year on the institution's campus. In 2014, The Henry Ford premiered its first-ever national television series, The Henry Ford's Innovation Nation, showcasing present-day change-makers and The Henry Ford's artifacts and unique visitor experiences. Hosted by news correspondent and humorist, Mo Rocca, this Emmy®-winning weekly half-hour show airs Saturday mornings on CBS. For more information please visit our website thehenryford.org.
# # #