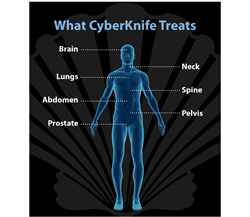 We are proud to be able to make available our [CyberKnife] services... through our partnership with New World
New York, NY (PRWEB) September 01, 2015
"We are excited to partner with the Southeast Georgia Health System with this state-of-the-art Cyberknife® Treatment offering. Together, with our all-inclusive one price healthcare (TM) offering, the self-insured marketplace will know exactly what they are paying for care before their members receive treatment," shares Terry Johnson, Chief Operating Officer for New World Medical Network (TM) (New World).
"Southeast Georgia Health System is one of less than 250 CyberKnife programs world-wide that provides access to the world's first and only robotic radiosurgery system designed to treat tumors throughout the body non-invasively," says President & CEO of Southeast Georgia Health System, Gary R. Colberg, FACHE. "We are proud to be able to make available our services to those outside our region through our partnership with New World Medical Network."
Southeast Georgia Health System is a not-for-profit, tobacco-free health system comprised of two acute care hospitals, two long term care facilities, three immediate care centers, five family medicine centers, and employs more than 115 providers working in 20 different medical specialties at more than 40 locations. The Health System has multiple outpatient specialty care centers, including the only CyberKnife® Center in the region and one of only four in Georgia, a Cancer Care Center accredited by the American College of Surgeons Commission on Cancer, and designation of Centers of Excellence in: Breast Care and Joint Replacement. In 2013, the Camden Campus was named the 2013 Small Hospital of the Year by the Georgia Alliance of Community Hospitals and was also recognized as a 2013 Top Performer on Key Quality Measures® by The Joint Commission, the leading accreditor of health care organizations in the United States. In 2015, the Brunswick Campus was rated High Performing in Hip Replacement in the U.S. News & World Report. For more information, call 855-ASK-SGHS (855-275-7447) or visit sghs.org.
New World Medical Tourism LLC (New World) is run by experienced healthcare and insurance professionals and caters to the self-insured marketplace - TPAs, companies, municipalities, and unions - with its one-cost, all-inclusive approach to non-emergent medical procedures and surgeries called "One Price Healthcare" (TM) The New World Medical Network consists of high quality, accredited medical facilities within the United States often saving organizations 50% off average U.S. costs. The program attaches to an existing health plan, achieved with a simple amendment to the plan document, so there is no need for Open Enrollment or a delay in Savings; the program can be implemented at any time. Companies, Municipalities and Unions can call directly to 1-800-475-PATIENT (7284) to talk with a salesperson and receive a comprehensive savings analysis specific to their company and demographics or visit newworldmedicalnetwork.com