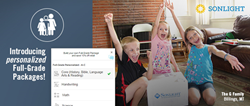 Parents can expect smoother days with children supported in every subject area.
Littleton, Colo. (PRWEB) September 11, 2015
Due to customer demand, Sonlight launched Curriculum Builder to enable parents to match children's skills across all subjects for personalized full-grade packages.
Curriculum Builder lets parents more easily accommodate the unique needs of their learners. Using this new tool, parents can now put together a Full-Grade Package that more closely matches their children's abilities in different subject areas and helps them succeed.
"Parents can expect smoother days with children supported in every subject area with curriculum that meets them where they are," said Tim Heil of Sonlight.
Here's how Curriculum Builder works:

Parents choose the Full Grade curriculum package they want.
Click on Personalize your Full-Grade Package.
Learn more about personalizing homeschool curriculum.
Full-Grade Packages save families money
Sonlight is able to offer families the best value with bundled products. When homeschoolers select any Full-Grade Package (personalized or not), they'll get the deepest discount available.
"Regardless of the curriculum path you choose, we believe you'll have a delightful experience learning together with Sonlight. If you need assistance, advice or encouragement at any time, we're here to support your homeschool adventure," said Heil.
About Sonlight:
Sonlight Curriculum is the original homeschool company, a pioneer in literature-based curriculum from preschool through high school. We've been inspiring a love to learn in families for 25 years. Based in Littleton, Colorado, Sonlight is a Christ-centered company that provides complete curriculum packages and individual resources to enable parents to homeschool their children in over 100 countries worldwide.