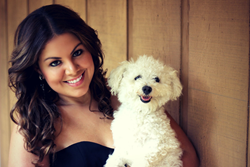 Award-winning coach, Ilean Harris, is determined to help women create the freedom they desire and increase their online sales.
Miami, FL (PRWEB) August 25, 2015
A new online training program designed to teach women how to monetize their expertise online with e-courses and build a successful online business will be launching mid-October, 2015.
Dubbed,The Lady Boss Academy, this training platform is the brainchild of renowned marketer and entrepreneur, Ilean Harris.
"The old model of trading time for money has failed us and that is why women must work smart and leverage their expertise in unique and powerful ways. The internet is a game changer for women everywhere who have been bitten with the entrepreneurial bug," says Harris.
Forbes.com revealed in 2014 that e-learning is booming and market research firm Global Industry Analysts projects it will reach $107 Billion in 2015.
To meet the demand for instructional courses teaching entrepreneurs how to leverage their expertise into online businesses Harris recently announced the opening of the the Lady Boss Academy waitlist. Joining the wait list is free and members gain access to early enrollment opportunities, special bonus trainings, and an exclusive discounts on tuition when the program launches.
The Lady Boss Academy is designed to help women from any industry create and sell digital courses, make sales in their sleep, and further monetize their expertise, speeches, books, and time.
"Women who are coaches, authors, seminar leaders, speakers, online marketers, and overall lady bosses will love this comprehensive program and its supportive online community", states Harris.
A recent graduate of the Lady Boss Academy beta program, Courtney Taylor, made the following statement. "OMG your program is working like no other! After getting 100 new leads the first 15 minutes of posting on Facebook, 3 new clients (one is in the Cayman Islands), and getting ready to launch my course by the end of the month- I'm in shock. Not only did I earn back my investment in under 3 weeks, but I made a profit on top of it. You can do anything you put your mind to."
For early bird access and to join the Lady Boss Academy waitlist for free sign up at: http://www.LadyBossAcademy.com
About Ilean Harris:
Ilean Harris is an award-winning coach who teaches women how to make sales in their sleep by creating digital courses. She is the founder of the Lady Boss Academy, has customers in over 20 countries, and makes sales in her sleep.
Connect with Ilean on Facebook here: https://www.facebook.com/theileanharris