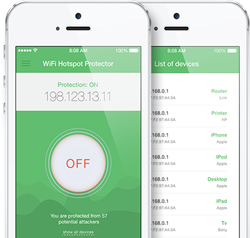 (PRWEB) August 25, 2015
WiFi Hotspot Protector was featured on NewsWatch as part of its monthly AppWatch, which takes a look at the latest and coolest applications on the market for iOS, Android, and Windows. Joe Toohey, the host of AppWatch and technology expert, conducted the app review and shared with viewers how this app provides people with protection in public WiFi networks.
These days accessing the internet is as easy as turning on a phone. Most commercial spots like cafes, airports and even hotels provide public WiFi hotspots. These are great for convenience but not so much for security. A lot of these WiFi hotspots will even have disclaimers letting people know that these open networks aren't completely secure, leaving personal information open to theft.
WiFi Hotspot Protector eliminates this problem by providing all the protection a person needs on a public WiFi network. The app scans the network for possible security problems and actively guards and protects the user's information and communications. Users can rest assured their credit card info, e-mails, passwords and other content are under lock and key, keeping potential hackers out with Samurai agility. Any information users send – like an e-mail, text or purchase - is encrypted using the latest in encryption technology.
As an added bonus, WiFi Hotspot Protector acts similar to VPN, giving access to geo-restricted content – like Netflix or Google in certain countries. It's available on iOS devices for free the first 10 days. So, head over to the App Store to download WiFi Hotspot Protector today.
To learn more, visit https://wifihotspotprotector.keepsolid.com/ today.
About NewsWatch
NewsWatch is a weekly 30-minute consumer oriented television show that airs on the Discovery Channel and ION Network. NewsWatch regularly features top technology products and services, mobile applications for iOS, Android, and Windows devices, unique and beautiful travel destinations around the world, health and medical tips, and entertainment interviews on the show. NewsWatch airs on the Discovery Channel at 7:00 – 7:30 AM ET/PT.
NewsWatch is located in the greater Washington, DC area and has been on air for over 25 years. For more information or to watch the most recent episode, visit http://newswatchtv.com/appwatch.html.