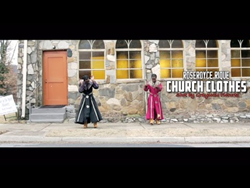 Charlotte, NC (PRWEB) August 24, 2015
Today Coast 2 Coast Mixtapes announce the release of the music video for "Church Clothes," the latest single by RoseRoyce Rique featuring Doug Dew. The video can be viewed in its entirety at the Coast 2 Coast Mixtapes Website.
RoseRoyce Rique is is currently seeking press opportunities, interviews, features, and more. He can be reached at the following via his official Twitter.
About RoseRoyce Rique: Rique was born on July 4th, 1987 in Asheville, North Carolina as Clyde Al' Tarique Daheem Turner. Al' Tarique is one of four children conceived by Lavenia Vance, his mother, and Al' Jamar Turner, his father. After an early separation between his parents, he was exposed to a dual lifestyle. Living with his mother in North Carolina caused for a much slower pace of life, where as living with his father in Newark, New Jersey was more fast paced. Because of this, Rique was better able to adjust to situations based on his experiences in both environments. With the music industry having an huge impact on his father's life, it was safe to say that Rique would shortly follow in his footsteps. He would study his father's work as well as the lyrics and music of veteran hip-hop artists such as Big Daddy Kane, Slick Rick, Tupac, & Biggie Smalls.
He became determined to learn and perfect his owns style. It wasn't until 1998 when Rique performed for his first time, attending a talent show at his school. Rique, his cousin Doug Dew, and two other friends formed a group called "the Souf Boys." By late 2000 the group consisted of a total of five members, now calling themselves The Lost Colony. The group was produced and managed by Andrew Harr (The Runners). As one member of the group Owee branched off and linked up with BMF's own and Andrew Harr began to succeed with his productions, Rique and the others were left on their own. Nowadays Rique goes by RoseRoyce Rique and is the founder of T.O.M.G. (Team Olympic Music Group) along side Doug Dew, D Streetz, Redd Boi, and Humbo County. Currently working on up and coming projects "American High" and his solo project "Black Roses". For more info on RoseRoyce Rique visit RoseRoyce Rique Reverbnation
About Coast 2 Coast Mixtapes:
Coast 2 Coast Mixtapes are the most widely distributed mixtapes in the world, with over 100 million downloads/plays generated by over 300 volumes officially hosted by major artists. Coast 2 Coast has a solid reach in the new music industry with a digital magazine, DJ coalition, industry tips blog, yearly convention, and more. Coast 2 Coast Mixtapes represents a unique opportunity for artists of all urban genres, from major to indie. For more information, visit http://www.coast2coastmixtapes.com.