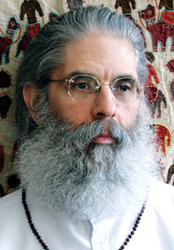 Reliance on multitasking for increased productivity is a major cause of physician burnout that can be relieved or prevented by meditation and its allied disciplines. -- Leonard Perlmutter
AVERILL PARK, NY (PRWEB) August 25, 2015
According to the American Meditation Institute (AMI) founder Leonard Perlmutter, important physician work-skills, mistakenly attributed to multitasking, can easily be acquired through the ancient meditation techniques to be presented at the seventh annual "Heart and Science of Yoga Complete Self-Care CME Conference for Physicians" November 3-7, 2015 at the Cranwell Resort and Spa in Lenox, Massachusetts. Perlmutter claims, "Reliance on multitasking for increased productivity is a major cause of physician burnout that can be relieved or prevented when medical professionals are trained in Yoga Science as holistic mind/body medicine."
Most women and men became doctors because they care about people. They work hard and truly want to serve their patients and profession. But as physicians, they are subject to many stressors: overwork, cumbersome regulation, electronic medical record keeping and coding requirements, medical liability, on-call issues, lack of sleep, politics, and frustrations with the reimbursement structure. In today's demanding business environment all workers, including physicians, are expected to successfully balance professional, personal and family responsibilities. But unlike most other personnel, doctors are also required to bear the heavy burden of being responsible for saving the lives of their patients.
By practicing Yoga Science as mind/body medicine, physicians can transform stress into strength––improving their job satisfaction and work/life balance, while reducing burnout symptoms of anger, depression, anxiety and exhaustion. To reduce burnout, this CME conference on the comprehensive science of Yoga offers physicians easy to use tools that for millennia have reduced stress and enhanced short and long-term health. These tools include: one-pointed attention, detachment, discrimination, creativity and will power.
This year's 30 CME conference has assembled an impressive faculty of distinguished experts who will present both lectures and practicums on seated meditation, meditation in action, diaphragmatic breathing, mantra science, Yoga psychology, mind function optimization, nutrition, functional medicine, epigenomics, Ayurveda, easy-gentle yoga, lymph system detoxification and an understanding of the chakra system as a diagnostic tool. This year's conference speakers include: Mark Pettus MD, Beth Netter MD MT, Anthony Santilli MD, Prashant Kausik MD, Susan Lord MD, Kathie Swift MS RDN LDN, Rosy Mann BAMS, and Jenness Cortez Perlmutter. Drawing upon their own personal experience, each speaker will explain not only how to limit or eliminate stressors, but also how to strengthen physical and psychological health, prevent and reduce stress and burnout, honor emotional and spiritual needs, foster and sustain personal and professional relationships and achieve a healthier and more rewarding work-life balance by actualizing the intuitive power of the superconscious mind.
According to conference presenter and former graduate Anthony Santilli, MD "Having been diagnosed with physician burnout myself, I found the practical teaching presented at the American Meditation Institute to be the perfect treatment and cure for my own disease."
Numerous medical pioneers and healthcare professionals such as Mehmet Oz MD, Dean Ornish MD and Bernie Siegel MD have endorsed AMI's core curriculum for this conference. Previous conference attendees have also noted that the material presented has made a beneficial impact toward their personal and professional efforts at self-care.
-30-
About the American Meditation Institute
The American Meditation Institute is a 501(c)3 non-profit educational organization devoted to the teaching and practice of Yoga Science, meditation and its allied disciplines as mind/body medicine. In its holistic approach to wellness, AMI combines the healing arts of the East with the practicality of modern Western science. The American Meditation Institute offers a wide variety of classes, retreats, and teacher training programs. AMI also publishes Transformation a bi-monthly journal of meditation as holistic mind/body medicine. Call (518) 674-8714 for a mail or email subscription.
Media Contact:
Robert Washington
60 Garner Road
Averill Park, NY 12018
Tel: (518) 674-8714
Fax: (518) 674-8714