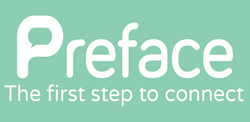 Preface combines the best of both worlds by promoting real, not virtual, social interaction, while maintaining privacy and control at a level far above that of most social media tools.
Los Angeles, CA (PRWEB) August 25, 2015
Preface is an anonymous social messaging app that allows users to choose who stays in their lives and on their phones. The only information a new connection gets is a username and picture. At any time, either user can drop the other, which deletes the conversation from both users' phones and completely severs the connection to prevent any future contact.
Preface aims to protect its users' privacy, while encouraging them to get outside and make connections; a face to face conversation is required to connect with Preface. By affording a safe and secure way to stay in touch with new acquaintances, the makers of Preface hope to give users the freedom to connect.
Connectome, LLC is a California limited liability company whose mission is to promote meaningful, risk-free connections between individuals and the people and businesses with whom they come into contact.
Preface is available free of charge for both Apple and Android devices.
To download the app: iTunes App Store and Google Play Store
Press Kit