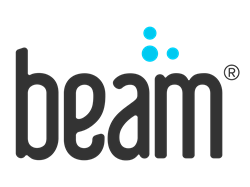 Our vision is to better understand where oral disease comes from and promote preventative care so major disease doesn't occur in the first place
Columbus, Ohio (PRWEB) August 25, 2015
Beam, a different kind of dental care plan, launched today for employers large and small. In addition to the new nationwide group insurance plan, Beam also unveiled Beam Perks, a quarterly subscription service for dental care goods, to deliver the best user experience of dental care and help members achieve better oral health.
The vast majority of oral diseases are preventable, yet they still affect a substantial portion of the population due to lack of proper care. Tooth decay is the number one chronic disease affecting children, while dental-related ER visits have doubled over the past decade. Beam is tackling these issues head on. That's why the company started with a smart toothbrush and gamified mobile app to prove health behavior could be changed and maintained among users. Now with its group insurance plan, Beam offers access to affordable and quality dental care to make it even easier to achieve great oral health.
"There is a surprising lack of data on how oral disease is manifested and perpetuated across large demographics. Our vision is to better understand where oral disease comes from and promote preventative care so major disease doesn't occur in the first place," said Alex Frommeyer, Beam CEO and co-founder. "With the Beam group insurance platform we will also provide new insights to individual companies, and the industry at large, to better control costs and target therapies as needed, which translates to significant savings for employers."
Alongside Beam's group insurance products, Beam Perks rounds out a set of differentiated benefits companies and their teams will love. With Beam Perks, all members receive the Beam Brush, as well as quarterly shipments of replacement brush heads, toothpaste and floss, ensuring everyone has what they need for great dental care. Members are prompted to download the Beam mobile app, which tracks brushing behavior over time and encourages positive change through gamification, to further enhance the comprehensive experience.
While each offering is available on its own, the Beam group insurance plan and Beam Perks are designed to work together as a complete solution, all for the same price or often less than most customers pay for coverage alone. This is possible with Beam's technology, which creates efficiency for both internal and external processes, and because Beam is making a long-term bet that it can improve the dental care of any population it insures, driving down risk and therefore costs, too.
"We live in a world where our lives are integrated into the apps on our smartphone, health care should be the same," said Shaun Rotenberg, DMD, MS. "Beam's technology is bringing much-needed innovation to the dental care ecosystem, improving the patient experience and offering engaging, modern tools that my patients need to not only maintain but also improve their oral health between routine cleanings."
Features and benefits of Beam include:

We've got you covered. Beam's nationwide network represents 200,000 access points in all 50 states.
More for less. Beam offers a group dental insurance plan equal to or better than anything on the market, along with Beam Perks, all for the same price or often less than the cost of coverage alone.
Simple onboarding. Beam has digitized enrollment, creating new efficiencies and allowing HR professionals to spend little to no time managing the onboarding process.
Everything you need. Beam Perks streamlines the process of getting the goods needed for great dental health with quarterly shipments of toothpaste, floss, and replacement toothbrush heads.
Design first. Every detail from the curvature of the brush handle to the taste of our toothpaste, to our welcome packet for new members, is designed to improve the user experience of dental care.
Employees love Beam. Beam helps drive culture in the workplace and at home with a set of differentiated benefits the whole team will love.
To learn more about Beam and receive a custom proposal for your company, visit http://www.beam.dental.
About Beam:
Beam is a different kind of dental care plan for employers large and small. We are rethinking dental benefits from the ground up, starting with a smart toothbrush and the most advanced group dental insurance on the market.
Our mobile application and quarterly shipment of replacement brush heads, toothpaste and floss round out a set of differentiated benefits your team will love. The result is a fundamentally better experience of dental care at a price point everyone can get behind.
We are proudly based in Columbus, Ohio. To learn more about Beam, please visit: http://www.beam.dental.