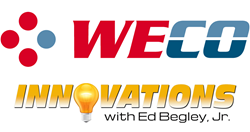 Woodland, CA (PRWEB) August 25, 2015
Woodside Electric Corporation (WECO) announced today that they will be featured in an upcoming episode of Innovations with Ed Begley Jr, later this year, 2015, via Discovery Channel. Dates and show times TBA.
Innovations will explore WECO, which designs, manufactures, and services automation equipment for the agriculture industry. WECO's primary products are optical electronic color sorters, and use LEDs, cameras, software and a reject mechanism to remove under-ripe, over-ripe, sun or insect damaged items from a population of good items.
Innovations viewers will learn how the company's machines help farmers and processors provide high quality products faster and more economically.
"We are excited about working with Innovations with Ed Begley Jr because it is a chance to show how farmers and food processors are using our technology to produce safe healthy food of the highest quality," said Don Douglas, President of WECO.
"WECO is on a mission to improve customers' productivity and efficiency through automation, and are dedicated to providing the highest quality, affordable products and services," said John C Ryff Jr., Producer for the series. "We look forward to sharing this information with our audience."
About WECO:
WECO has been building color sorters for over thirty years and primarily serves the blueberry, walnut, processor tomato and wine grape industries. WECO has thousands of units deployed around the country and around the world. All of the machines are designed and built in California.
For more information, visit: http://www.wecotek.com.
About Innovations and DMG Productions:
Innovations, hosted by award winning actor Ed Begley, Jr., is an information-based series geared toward educating the public on the latest breakthroughs in all areas of society. Featuring practical solutions and important issues facing consumers and professionals alike, Innovations focuses on cutting-edge advancements in everything from health and wellness to global business, renewable energy, and more.
DMG Productions (responsible for creating the Innovations show) includes personnel specialized in various fields from agriculture to medicine, independent films to regional news and more. Field producers work closely with experts in the field to develop stories. This powerful force enables DMG to consistently produce commercial-free, educational programming that both viewers and networks depend on.
For more information visit: http://www.InnovationsTelevision.com or contact John C. Ryff Jr. at: (866) 496-4065 x 813 or via email at: john(at)InnovationsTelevision(dot)com.