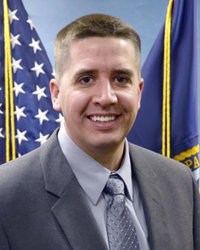 His sound leadership qualities and proven experience will be valuable assets for the facility, the employees and volunteers, and most importantly, for the Veterans we are honored to serve. - Paul Bockelman, Acting VISN 8 Network Director
St. Petersburg, Fla. (PRWEB) August 25, 2015
The Department of Veterans Affairs (VA) is pleased to announce the appointment of David Isaacks as the new Deputy Network Director of the VA Sunshine Healthcare Network (VISN 8).
Isaacks will be responsible for managing a $4.4 billion budget, developing area-wide (population-based) plans, consolidating and/or realigning institutional functions, managing effective affiliations with medical and dental schools, maximizing effectiveness for human resources available to the VISN, moving patients within and outside the VISN to ensure receipt of appropriate and timely care, supporting effective research and development initiatives, contracting with non-VA providers for medical and non-medical services as needed, and maintaining cooperative relationships with other VA field entities, such as Veterans Benefits Administration regional offices and national cemeteries.
"We are excited to bring Mr. Isaacks on board as the Deputy Network Director of the VISN 8 Sunshine Healthcare Network," said Paul Bockelman, Acting VISN 8 Director. "His sound leadership qualities and proven experience will be valuable assets for the facility, the employees and volunteers, and most importantly, for the Veterans we are honored to serve. We anticipate he will arrive at the medical center within the next 45 to 60 days to begin his appointment."
Isaacks has held progressive leadership positions at the Kansas City VA Medical Center, as Director for the Central Plains Consolidated Patient Account Center and as Director of Program Integrity and Informatics in the Chief Business Office Purchased Care Division. Most recently, he served as the VISN 15 Deputy Network Director in Kansas City, Missouri where he oversaw the day to day operations of the healthcare network office, consolidated business functions, and related healthcare services in support of nine hospitals, one healthcare center, and 51 community based outpatient clinics throughout six states.
Before joining VA, Isaacks served as a Health Systems Specialist for the Kansas Department of Health and Environment developing the State's Bioterrorism response and readiness activities. Isaacks served as a United States Marine for eight years where as a Staff Noncommissioned Officer supported airfield operations at a variety of locations.
Isaacks holds an Associates of Science in Business, Bachelors of Science in Business Administration and Management, a Masters in Organizational Management, and a Post Graduate Certification in Human Resource Management.
About VISN 8: The VA Sunshine Healthcare Network (VISN 8) is the nation's largest system of hospitals and clinics and is home to more than 1.6 million Veterans in a vast 64,153 square mile area spread across 79 counties in Florida, South Georgia, Puerto Rico and the U.S. Virgin Islands. VISN 8's seven healthcare systems include eight Joint Commission-accredited VA medical centers and more than 55 outpatient clinics. The VISN office is located in St. Petersburg, Fla. To locate a VISN 8 facility, visit http://www.visn8.va.gov.
Media Contact: Susan Wentzell
Deputy Communication Manager
VA Sunshine Healthcare Network (VISN 8)
(727) 575-8072 | e-mail: susan.wentzell(at)va(dot)gov