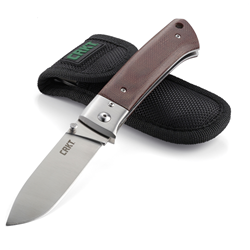 (PRWEB) August 27, 2015
A throwback to another era, the Torreya™ has a classic hunting style with a large 3.6" drop-point blade that can handle many outdoor tasks. This one looks good while cleaning elk or hanging from a gentleman's belt back at the lodge. Its tough resin infused fiber handle is shaped in a way that provides users with a good grip on jobs that'd normally require a fixed blade knife. Simply put, when it comes to hunting tasks, the Torreya™ doesn't know it's supposed to be a folding blade.
Whether it's scuba diving in his home state of Florida or hunting game out West, Jernigan has had a knife in his hand for as long as he can remember. So it was only natural that he'd want to evolve the fixed blades that he grew up loving.
Recalls Jernigan, "I was looking to create a seriously large knife that could fold into a relatively small package during hunts when space is minimal—this was my answer."
Looking for a folder that doesn't act like one in the field? Reach for the Torreya™.
The Torreya™ knife manufacturer's suggested retail price is $69.99.
PRODUCT SPECIFICATIONS
SKU: 2879
Blade: Length: 3.600" (91.0 mm)
Edge: Plain
Steel: 7Cr17MoV, 54-57 HRC
Finish: Satin
Thickness: 0.110" (2.7 mm)
Closed: 4.760" (121.0 mm)
Open: 9.190" (233.4 mm)
Weight: 5.1 oz. (145 g)
Handle: Polished Resin Infused Fiber
Style: Folding Knife w/Locking Liner and Sheath
Sheath: Material: Reinforced Nylon
Weight: 0.7 oz. (20.0 g)
Founded in 1994, CRKT® is the industry's premier brand of knives, tools, and lifestyle accessories, with a reputation for innovative design. For more information, call: (800) 891-3100, email: info(at)crkt(dot)com, on the web: http://www.crkt.com.