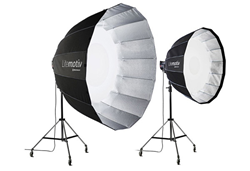 North White Plains, NY (PRWEB) August 25, 2015
Elinchrom has built a reputation for making the most popular light shaping tools in the world and for setting the industry standard when it comes to beautiful, soft, rich quality lighting. The Elinchrom Octabank in particular, has long been regarded as the world's best light shaper for fashion and portrait photography.
Not one to relax, Elinchrom decided to innovate further and is proud to introduce the Litemotiv Direct, a new series of light shaping tools. Available in 120cm/48" and 190cm/75" sizes, the Litemotiv Direct features 16 sides which produce close to perfect circular catch-lights while bathing the subject in beautiful crisp light.
Complete with a heavy-duty bracket for precise and easy positioning, all Elinchrom heads can be fitted for optimum results using every combination of the unique Elinchrom Deflector system.
Features include:

Exclusive fabric for exceptional light quality.
Sixteen sided softboxes, creating close to perfect catchlights.
Anodized rod color-coding for faster assembly.
A strong and stable bracket supports all Elinchrom units.
Additional brackets available for Broncolor, Profoto and Bowens.
Removable rear cover for easier setup and shoot through functionality.
Two diffusers, inner and outer, for perfectly soft diffusion.
Without these diffusers, this is a giant beauty dish.
Unique to Elinchrom, deflectors fine-tune the Litemotiv effect.
16 Rods
The 16 anodized rods are heat-resistant, enabling work with high temperature light sources. They are made out of flexible aluminum so that they follow the parabolic shape of the Litemotiv. The color-coding of the bracket and rods enable trouble free assembly. These are studio softboxes but their construction makes them simple to setup and also to disassemble.
More Light
The fabric of the Litemotiv softboxes is unique. It offers 30% more light output than the standard Rotalux fabric, also used for Portalite, while being just as lightweight. It also offers the same distinctive Elinchrom look as our other softboxes, but this fabric is heat-resistant, meaning that 650W hot lamps can be used with Litemotiv.
Strength
Designed to carry the Litemotiv 120cm/48" and the incredible 190cm/75", the bracket takes off all the stress from the unit while providing easy positioning of the light. Elinchrom Litemotiv brackets are available for:

Elinchrom users
Bowens / S-mount users
Broncolor Pulso mount users
Profoto users
Double-Diffusion
The double diffusion panels have been specially designed to produce very soft light. The inner diffuser also incorporates a central circular panel to avoid any hotspot, thus offering the most homogenous light possible. It is also possible to remove both diffusers to obtain a very crispy and contrasty light, similar to a beauty dish!
Both Litemotiv's offer exceptional value and quality. The Litemotiv 120cm/48" is priced at $509.00, and its bigger brother Litemotiv 190cm/75" is $1,299.00. Both systems come complete with a carrying bag for easy transportation.
____
Contact:
Will Holowka
willh(at)macgroupus(dot)com
(914) 347-3300 x227