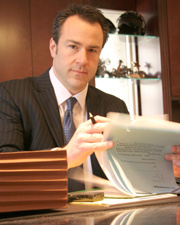 We are offering two students - one in a health / medical program, and one in a legal program - the opportunity to win a $1,000 scholarship. Deadline to enter is September 1.
Detroit, MI (PRWEB) August 24, 2015
Attention students: Attorney Jason Waechter, of http://www.birthlaw.com is accepting creative submissions for the 2015 Waechter Medical-Legal Scholarship for one more week only. "We've had several interesting entries this year," says Waechter, "but really, the pool of applicants is not that big, so every student who submits a creative entry has a chance of winning the prize."
Waechter and his team are dedicated to helping children and families affected by birth injuries. Waechter sincerely believes that health / medical and legal practitioners need to work better together towards a common goal: "Our job, whether we're on the medical side or the legal side, is to help people." He goes on, "often, we see people at their most vulnerable, when they are injured or ill, and it's not their fault. We need to come up with ways to work better together to get people, and particularly children, the help they need."
The Waechter Medical-Legal Scholarship was created with that in mind: to get health / medical and legal students to think creatively about how they can work better with each other to solve problems. The Scholarship awards two $1,000 prizes; one to a student in a health or medical program, and one to a student in a legal program. Waechter is only looking for creative submissions. "We get the usual essays, and some of them are really great… but we are looking for that 'outside-the-box' type of thing," he says. "When we go through the students' entries, we want to see them looking at things from a different angle."
The Waechter Medical-Legal scholarship is open to current students only. There is no minimum GPA to enter, and students are strongly encouraged to be creative. "We've had a few interesting ideas come in throughout the years; one of the winners from last year created a dating profile for medicine and law… you'd have to read it to really get it, but it was great. So we're looking for 'different'," he explains. Video, visual art, music, poetry, and creative social media accounts are all acceptable entries as long as they address the law, medicine, and how the two affect each other. The application cutoff is September 1. Prizes will be announced in October. Details, disclaimers, and submission criteria can be found at http://www.birthlaw.com.
#####
Over the last 20 years, Jason Waechter has been passionate about helping families. Waechter is associated with lawyers and law firms in every state across the US. Visit http://www.birthlaw.com for more information.