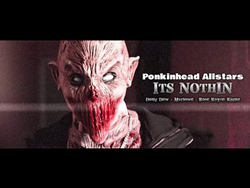 Asheville, NC (PRWEB) August 24, 2015
Today Coast 2 Coast Mixtapes announces the release of the latest video by PonkinHead Allstars for their single "It's Nothing". The official video can be viewed at the Coast 2 Coast Mixtapes website.
PonkinHead Allstars are currently seeking press opportunities, interviews, features, and more. PonkinHead Allstars can be reached at their official Twitter.
About PonkinHead Allstars: While the do-it-yourself ethic in music is often associated with punk bands, in Asheville, there is a hip-hop label that fully embodies that spirit. In 2002 Demetri Jones, aka Illski, founded Ponkinhead Entertainment after his friend, Joseph "Ponkin" Pearcy was shot and killed on Patton Avenue. "Looking back now, I know it was a horrible incident," Illski says, "but the blessings that came out of it are too numerous to count."
Using a microphone, a secondhand laptop and MAGIX Music Maker software, Illski went in search of artists to join his new label. For over a decade the artists of Ponkinhead Entertainment produced their own music in bedrooms across Western North Carolina. They released mixtapes and albums, and even produced their own music videos. Ponkinhead enjoyed some success with the song "Wind Me Up" by the rapper Yung Mawk, but until recently mainstream recognition was always at arm's length.
In February, the label premiered the first single from its upcoming record, Ponkinhead Allstars Vol. II. Unlike previous releases which nod to to Atlanta trap music, the new album mixes pop, hip-hop and R&B with a Southern soul vibe that Illski says is unique to WNC. "This album is important because it's a reintroduction, another chance for us to gather those who we may have lost, as far as fans are concerned, during our times of turmoil and reconstruction," he says. The first single from the album, "One Chance" features Young Buck of G-Unit, a Queens-based rap group lead by 50 Cent. The video for the single has been picked up by VH1.
"We are getting paid for our shows now. We are pushing for the top," says Rydah Black, a rapper currently signed to Ponkinhead. "I've got a lot of faith in this because we stick together. We move as a unit. We are not trying to blow as individual artists. We are trying to make it as a label. So if we go to the top, we are going together."
Ponkinhead has come a long way since its inception. But even though the label is now working with mainstream rappers and DJs, many of its stable of musicians still keep day jobs. "Slow money is better than no money," says Yung Mawk. "When I see how hard my friends are grinding, it [does] nothing but motivate me, and at the end of the day I remember it's all for one goal — for Ponkinhead to make it."
The new album is a chance for the label to finally receive the attention that it has worked so hard to achieve. For Illski, it isn't simply about commercial success: "We have the chance to show the younger generations who are looking at us that their lives do mean something," he says. "Just because you've made a mistake, that doesn't mean you can't come up out of that and do whatever it is you dream about.". For more info on PonkinHead Allstars visit their official website.
About Coast 2 Coast Mixtapes:
Coast 2 Coast Mixtapes are the most widely distributed mixtapes in the world, with over 100 million downloads/plays generated by over 300 volumes officially hosted by major artists. Coast 2 Coast has a solid reach in the new music industry with a digital magazine, DJ coalition, industry tips blog, yearly convention, and more. Coast 2 Coast Mixtapes represents a unique opportunity for artists of all urban genres, from major to indie. For more information, visit http://www.coast2coastmixtapes.com.