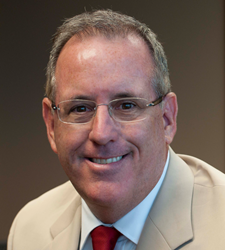 "He is one of the best sales managers I've ever seen. He supports his team and is with them at every turn."
Schaumburg, Illinois (PRWEB) August 25, 2015
Union Leasing is proud to announce that their vice president of sales and marketing, Mark Conroy, has been nominated for the 2015 Automotive Fleet and Leasing Association Hall of Fame. The AFLA recognizes fleet industry leaders and pioneers who contribute significantly to the commercial fleet management profession. This is the second time Conroy has been nominated.
Conroy has been involved with fleet management since 1978, with the last eight years at Union Leasing based in their Atlanta office. He manages a nationwide sales force focused on customized fleet management solutions for Union Leasing clients. "Through our close-knit fleet management community, I knew Mark long before he joined Union, and there is no one more deserving of this award," said Kent Boskovich, President of Union Leasing. "He is one of the best sales managers I've ever seen. He supports his team and is with them at every turn."
Union employees also say Conroy's leadership success is in great part due to his positivity, his ability to unite people towards a common goal, and his ability to make everyone feel valued. Conroy is also a multi-faceted professional with experience in direct B2B sales, sales management and marketing.
Voting is now open and the three selected inductees will be announced at the AFLA conference in September.
About UnionLeasing Inc.:
Union Leasing Inc. provides flexible, vehicle lease financing and highly customized fleet management services to corporate and rental customers nationwide. Their division, Express 4x4 Truck, provides short & long-term 4x4 truck rental to commercial customers for remote project work. Union Leasing was established in 1955 and is a subsidiary of Sasser Family Holdings, Inc. Sasser Family Holdings is a 4th generation, family-held transportation asset services and management company with roots dating back to 1928. Other SFH subsidiary business units include Chicago Freight Car Leasing Co., CF Rail Services, LLC, CF Asia Pacific Group PTY Ltd., NxGen Rail Services LLC, and Xcēd Aviation Services, LLC. The businesses are leaders in providing commercial and industrial focused rail, ground support, and vehicle transportation equipment solutions including asset leasing, fleet administration management, asset repair and maintenance, and innovative technology solutions throughout North America and Australia. For more information, visit Union Leasing Inc. at http://www.unionleasing.com or Sasser Family Holdings, Inc., at http://www.sfhsinc.com.