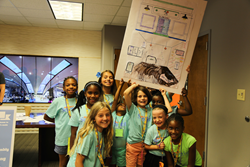 Allowing our scientists to visit real STEM companies right here in Charlotte brings relevance and inspiration to our girls...
Charlotte, NC (PRWEB) August 25, 2015
T1V, a provider of interactive touchscreen technology, recently partnered with Project Scientist to host its Project Scientist Academy. On July 29, over 100 Project Scientist campers – girls ages four and up - filled T1V's headquarters for a day of interactive learning.
While visiting T1V for the day, Project Scientist campers had the chance to learn about T1V's technology through a series of activities focused on T1V's process for creating its own interactive technology. The girls began with a basic overview of multitouch software, then creative (even designing their own GUI – graphical user interface), then on to industrial design, concluding the day by pitching their interactive technology to the CEO and CTO of T1V, 'shark tank' style.
Mike Feldman, CEO of T1V says, "For some time, we've been looking for the right organization to partner with that would provide our employees a way to give back to our community. Our entire team got involved throughout the day, and it was amazing to see the engagement between our employees and these young, enthusiastic girls as they learned about our technology – we look forward to our continued partnership with the organization, and to exploring additional ways that we can contribute to Project Scientist's programming in the Charlotte community."
Sandy Marshall, Founder of Project Scientist, says, "We are so grateful to the T1V team for the time and effort they put in to designing and executing our STEM Expedition. Allowing our scientists to visit real STEM companies right here in Charlotte brings relevance and inspiration to our girls, not only giving them a glimpse into a local STEM company, but also providing them with the vision that they too could work at an innovative company like T1V."
"It was so cool to see a company right here in Charlotte that makes apps for my iPad and develops software for huge touchscreens. This was one of the best Expeditions ever and the toppings for the yogurt bar were awesome!" adds Ellie Marshall, age 9 - 5 years at Project Scientist.
T1V first engaged with Project Scientist in December 2014, where they helped to create holiday science kits at Charlotte's Packard Place. Since then, the two organizations having been working together to team up to host a field trip for the Project Scientist Academy.
Project Scientist was founded in 2011 by Sandy Marshall, former Executive Director and Founder of The NASCAR Foundation. The non-profit's mission is to educate, coach, and advocate for girls and women with an aptitude, talent, and passion for STEM. Project Scientist provides girls ages four and beyond with a community of support essential to sustaining girls' STEM interests and achievement. The organization provides year-round programming that provides these young girls the opportunity to experience STEM in a variety of ways, including full-day "STEM Expeditions" during the school year when school is closed and its Project Scientist Academy. To learn more, visit http://www.projectscientist.org.
About T1V
T1V creates interactive touchscreen experiences. Deliberately large in size and incredibly durable, our Interactive Platform includes tables and walls, digital signage, and mobile apps. Our products are powered by patented multitouch, multiuser software that transforms public spaces into more dynamic environments. The T1V team is made up of design, engineering, business and technology minds alike - resulting in unrivaled support to our customers from start to finish.
Based in Charlotte, NC, T1V works with retail, events and exhibits, enterprise, hospitality, and education markets around the globe. The company is recognized as one of Charlotte's Fast 50 by the Charlotte Business Journal and was named to the 2014 Inc. 500 by Inc. magazine. Visit http://www.t1v.com to learn more about our products and how we can work with you and your industry.
To see more, visit http://www.t1v.com/showcase/videos.