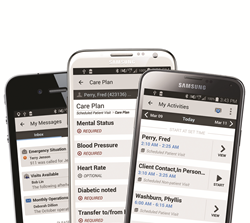 We listen to our customers and continually bring new capabilities to market – we release a significant new version approximately every three months. I don't know of any other company whose mobile solution moves at that speed.
Schaumburg, IL (PRWEB) August 25, 2015
CellTrak Technologies, the leading provider of mobile health care and service delivery solutions for the home health, hospice and community care markets in the US, Canada and the UK, announced a new release of the CellTrak Mobile Health Solution, a software-as-a-service offering that is used at approximately 4,000 locations to make nearly one million home care visits per week. The enhancements were built forspan the iOS, Android and Blackberry mobile apps caregivers use, as well as the CellTrak Care Team Portal, which enables care coordination, and the CellTrak Operations Team Portal, which provides Operations personnel with real-time clinical and operational alerts, as well as other information that is used to improve care and reduce costs.
"Health care never stops changing; it's a constant challenge for agencies to keep up," stated Mark Battaglia, CellTrak's CEO. "CellTrak provides a complete, highly configurable mobile solution that gives agencies the flexibility they need to efficiently provide high-quality care and services to people in their homes. Industry regulations and best practices are continually evolving and many agencies have specific requirements for a mobile solution based on the people they serve and their processes. We're committed to providing a "best-in-class" solution that can be used by agencies of all types and sizes, one that improves the quality of care delivered, enables regulatory compliance and reduces the cost of providing care. We listen to our customers and continually bring new capabilities to market – we release a significant new version approximately every three months. I don't know of any other company whose mobile solution moves at that speed."
Among the most requested items by customers that are new in this version are:

Streamlining communication between the office and caregivers, reducing phone-tag and texting, and decreasing the risk of missed visits via automatic, highly visible, on-device notifications when a schedule change is made. And, the office staff can see when the notification is received by the caregiver.
Enhancing the Operations staff's visibility of what is happening in the field and helping them better manage their time by enabling more granular geofence threshold settings. CellTrak is the industry leader in the use of GPS coordinates to establish geofences, providing many options agencies can use to electronically verify whether or not, and for how long, the caregiver is actually with a client and to trigger associated real-time alerts that go to the Operations staff according to the standards the agency has established.
Providing caregivers with the flexibility to more easily handle the sorts of things that inevitably come during their day by doing a secure look up of information about not only people, but also other locations they need to visit, such as approved nearby pharmacies, as needed. This feature saves time, makes it easier to use mileage-saving routes and provides valuable information about how caregivers actually use their time during the day to do unscheduled tasks.
Improving administrative efficiency, reducing errors and streamline workflows by enabling automated routing of forms, assessments and other documents for review and approval by supervisors.
Enabling, when the agency's back-end system supports it, better support for the effects of certain societal changes. Specifically, caregivers now can have and use information about patients who live at multiple locations, for example in joint custody situations. Key operational functionality, including mileage calculations and visit verification alerting based on GPS location, is automatically set based on the applicable service location.
In addition, with this release CellTrak is first-to-market with biometric security for caregivers that uses the new Apple® TouchID technology.
"Our customers are concerned about data security," Battaglia said. "This new feature provides them with an additional security option, as well as convenience for caregivers."
About CellTrak
People receive exceptional health care in their home or community when their care providers use CellTrak's Mobile Health Solution. Home care, hospice and community care agencies in the US, Canada and the UK deliver higher quality care, communicate more effectively, improve compliance, reduce costs and increase productivity with CellTrak. CellTrak's complete, integrated software-as-a-service solution facilitates care delivery and real-time field force management; automates data collection; and provides information for business and care optimization. It includes apps for all types of caregivers that run on the leading mobile devices; portals for efficient, coordinated care delivery by a distributed workforce; interfaces to EHRs and back office systems; and services to support adoption and optimization. For more information visit http://www.celltrak.com.