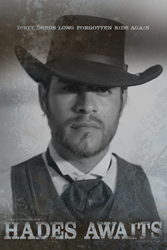 Dirty deeds long forgotten ride again
New York, NY (PRWEB) August 27, 2015
Armored Vision announces Jason Cameron, of DIY's Man Caves and Sledgehammer to host a gathering with the Cast of the Western Hades Awaits and special invitees to The Kolo Klub in Hoboken, NJ. August 31, 2015. This event will bring together a great mix of individuals for the purpose of sending into production, Hades Awaits.
Hades Awaits is an upcoming movie to be shot on 35mm film,in the desert and mountains of Arizona. The producers have yet to cast the title role of "Hades". "With a little more support we can finish filling out the cast and begin production", states Director Nathan Hill. The producers are honing in on such talent as Marilyn Manson, Eddie Izzard and Gael Garcia Bernal to play the colorful Hades, for more details visit; http://www.facebook.com/hadesawaits.
Hades Await is a Western feature film that will be produced in the Sonoran Desert of Arizona. Writer and director Nathan Hill is enjoying a unique opportunity to have a large contingent of the cast at a meet and greet as details of production dates are finalized. "Jason has really gone out of his way to put this all together, He really has a passion and dedication to acting", says Producer Keith Wilson. Honored guests, Designer Stephen Fanuka and NFL great Tony Siragusa will be attending to show their support for this unique Western tale. Siragusa has been cast as outlaw "Chucho Vega".
Guests will enjoy a red carpet entrance, conceptual art exhibition, cinematic presentation, hors d'oeuvres from Hoboken Catering Co., creative cocktails and beverages, film mementos, live music from Gravy Train, and many other entertaining extras.
Make plans to join Jason Cameron, the Cast and Special friends on Monday, August 31st 2015 at 7:00 p.m. at The Kolo Klub to support Hades Awaits. The attire is casual to chic. Hope to see you there!