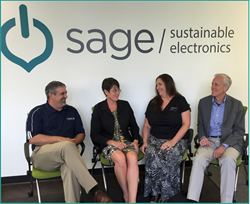 Franklin now has a partner that will provide clients with a socially responsible reuse plan that meets regulatory compliance.
Columbus, Ohio (PRWEB) August 25, 2015
Franklin Computer Services Group and Sage Sustainable Electronics today announced a new collaboration that will reduce wasted technology and give back to the Columbus community, including the Reeb Avenue Community Center.
Franklin is a trusted IT advisor to its corporate customers for planning moves, implementing equipment refreshes, and upgrading infrastructure that typically result in surplus IT assets that are still usable. Sage's mission is to lead a "reuse revolution", one that harnesses the transformative power of used technology through advanced capabilities in responsible electronics dispositioning.
In partnership with Franklin's customers, Franklin and Sage will direct used IT infrastructure away from the landfill to greener channels: repair, reuse, resale and recycle. To increase this positive impact, Sage and Franklin will donate many used devices to those in need through Sage's GoodTogether program. The program supports numerous charities and non-profits in the Columbus community, including the Reeb Center and Habitat for Humanity.
"What we're trying to do at Sage is double-down, so to speak: reduce electronic waste, but also use would-be wasted devices for community projects here in Columbus and elsewhere," says Jill Vaské, President of Sage. "Companies need to know that a large portion of their retired goods still have value that can either go back into their business or be used to support important causes. Our collaboration with Franklin brings this added value to their customers, and also the Columbus community. In 2015, there's just no excuse for throwing usable technology away."
Used technology holds great potential to improve lives through increased access to information – a proven route to better health, education, employment and social outcomes. To fully realize this potential, Franklin plans to offer support services and technology learning experiences to GoodTogether device recipients.
The strategic alliance will also benefit Columbus' business community, providing Franklin customers with an end-to-end solution to technology ownership, with specialized Sage expertise and personnel in IT asset disposition.
"Franklin now has a partner that will provide clients with a socially responsible reuse plan that meets regulatory compliance," said Mike Castrodale, President at Franklin. "What's more, Franklin customers will receive a better financial return on every device and fewer devices will be wasted."
Joe Kubina, Sales Director at Sage, and Castrodale brokered this new collaboration after meeting during a high-profile IT project that spanned two years and four states. They share a mutual commitment to quality, expertise, integrity and best business practices.
E-waste is one of the most pressing environmental concerns of our time. A recent report from the United Nations estimated that human beings created 41.8 million metric tons of electronic waste in 2014. This is expected to increase to 50 million metric tons by 2018 – an unfortunate trend when so many people and families lack access to affordable technology. And it's not just a matter of scale. Electronics contain harmful chemicals and refined metals that can cause catastrophic environmental and human damage when improperly handled.
About Franklin Computer Services Group
At Franklin, our success is helping your business to succeed. We provide our clients with business and IT solutions specific to their industry, culture, budget and purpose. Our solution oriented approach delivers the highest value with exceptional results. For more information, please visit http://www.fcsg.com.
About Sage Sustainable Electronics
Sage is a next-generation IT Asset Disposition company working with companies nationwide to conveniently and professionally transition their used electronics for further use by themselves or others, and as a last and final resort, to recycle. Sage's mission is to make the world more sustainable by extending the life of used electronics.
For more information, please visit http://www.sageGoodTogether.com or http://www.sageSE.com.