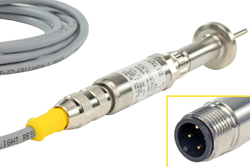 Eliminate incorrect wiring and reduce installation time with Quick Connect sensors from Burns Engineering.
Minnetonka, MN (PRWEB) September 10, 2015
Burns Engineering's time tested RTDs are now available with Quick Connect M12 connectors for fast, reliable and trouble-free installation. Paired with a T12 transmitter and Series C cordset they create a robust sensor system with plug and play simplicity.
Quick Connect sensors eliminate incorrect wiring and questionable connections while reducing overall installation and maintenance time. Available in Sanitary and Industrial models the Quick Connect simplifies connections for sensor calibration and the small footprint design accommodates installation in tight spaces. Models cover a range of temperatures from -200°C to 500°C. In addition, the inline T12 RTD transmitter can be matched with the sensor for improved measurement accuracy.
Since 1960, Burns Engineering has been an industry leader in the design and manufacture of temperature measurement products for the Process, OEM and Metrology industries. Products include RTDs, Secondary SPRTs, Thermocouples, Thermowells, Transmitters and NVAP Accredited Calibrations (Lab Code 200706-0). Burns is an ISO 9001 Certified company. Learn more about Burns Engineering at http://www.burnsengineering.com or contact directly at 800-328-3871