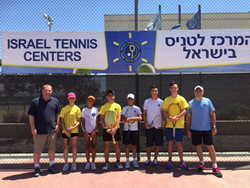 New York, New York (PRWEB) August 26, 2015
The Israel Tennis Centers Foundation was excited to report a "first" for the Israel Tennis Centers... the appearance of its ITC Coexistence Team at a professional ATP tournament! Earlier this month a team of six Arab and Jewish youth, their two coaches and ITC alum, Ehud Kish, played an exhibition during the prestigious Citi Open, on the very same court that ITC alum Amos Mansdorf won this championship back in 1993. It was a crowning achievement for the team and the ITC to have this kind of exposure at a major tennis tournament. "Playing for Peace… Beyond Tennis" is the message they promoted on and off the court.
The visit to our nation's capital was the first stop in a jam-packed schedule of appearances not only in Washington, DC but two other key markets in the Northeast. From here the team traveled to New York and Philadelphia for exhibitions with donors, meetings with the Israeli Consul General and visits to historical sites in both cities. They concluded their visit with a very special event hosted by the Legacy Youth Tennis and Education in Philadelphia as part of the ITC's "Children to Children Tennis Diplomacy Exchange" Program.
Due to weather related delays, the exhibition at the Citi Open took place at midnight instead of 7 pm, a long time for the team to wait, but well worth it. But that did not take away from the enormity of the event... the first ever for the ITC! Undoubtedly their appearance at the Citi Open will create memories that will last a lifetime… all part of an unforgettable adventure for the ITC Coexistence team.
About the Israel Tennis Centers Foundation:
The Israel Tennis Centers Foundation (ITC) is a 501 (c) 3 not-for-profit organization that works tirelessly through the medium of sport to enhance the development of Israeli youth. Since opening its first center in Ramat Hasharon in 1976, the ITC has helped over a half million children, many of whom come from outlying development towns throughout Israel. The ITC's 14 centers stretch from Kiryat Shmona on the Lebanese border in the North to Beer Sheva bordering the Negev Desert in the South. http://www.israeltenniscenters.org.
Contacts:
Jacqueline Glodstein
ITC Vice President/Global Development
212-784-9201
jglodstein(at)israeltenniscenters(dot)org
Richard Weber
ITC Global Director of Marketing
212-784-9202
rweber(at)israeltenniscenters(dot)org