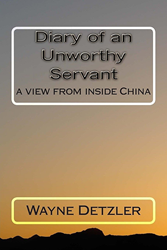 This book tells the story of brave people who have endured unspeakable persecution. Their stories must be told.
(PRWEB) September 09, 2015
This extraordinary book travels to the front line of the human rights struggle taking place in the interior of China, where Christians and others are persecuted for their beliefs. This vast communist nation that is the world's most populous country boasts a beautiful exterior, but underneath hides an ugly secret.
This is a second edition of the biographical project by Wayne Detzler and his wife Margaret that has been expanded to offer their insights on the truth of what is happening inside this Asian country. After dedicating a lifetime of ministry in Europe, England, and the United States, the couple spent several months in China. Their diaries of that time document their own experiences, as well as those of others that they witnessed. According to Dr. Detzler:
"Some of the young women had their thumbs broken by the use of thumb screws to hang them for long periods—afterward some of them could no longer use chopsticks because they had lost feeling in their thumbs. They were often beaten to force them to betray church leaders."
"A pastor in Central China stumbled into our safe house. He had been so severely beaten that he later suffered a stroke. Wand Mingdao was jailed for more then 20 years. Despite this he led a large church in prison."
"Diary of an Unworthy Servant: A View from inside China" takes readers inside the hidden safe houses across China, where victims of human rights abuse live and work and continue their struggle. It exposes the abuses, while telling of the brave people who have endured unspeakable persecution. Their stories must be told.
The author's previous work has received 5-Star Amazon Reviews. "The Living Words series provides a unique understanding of the original meanings of the Greek in Paul's letters. For the preacher and for the student they provide a helpful resource in deepening our knowledge and appreciating the impact of Paul's words."
5-Star Amazon Review by Prof Du Wei En on "Daring the Devil – Spiritual Warfare": "This book is full of realistic experiences with the spirit world. In our post-Enlightenment academic climate we often dismiss the spirit world. Dr. Detzler's book offers a sober, yet necessary, corrective to this viewpoint."
About the Author: Wayne Detzler is the emeritus distinguished professor of cross-cultural apologetics at Southern Evangelical Seminary in Matthews, North Carolina. This is the premier center for apologetics education on the East Coast, and Dr. Detzler has been connected with it since 1994. For more than two decades, the author traveled all over Europe studying and writing for American publications. He holds a Ph.D. from the University of Manchester in England, and has served as a news commentator on the BBC. He authored or co-authored more than two dozen books. Most recently, he has been working in and out of China.
Author's website: http://www.waynedetzler.com
The compelling new book DIARY OF AN UNWORTHY SERVANT: A VIEW FROM INSIDE CHINA (ISBN: 978-1-47507-915-9) is now available for $6.50 and can be ordered through the publisher's CreateSpace Independent Publishing Platform website:
CreateSpace.com or at Amazon, Barnes & Noble, and other online booksellers.