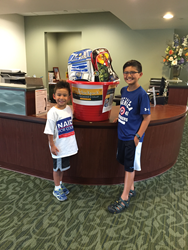 New Providence, NJ (PRWEB) August 27, 2015
Summit Medical Group Foundation is pleased to announce it has partnered with the Three Doctors Foundation and other local nonprofit organizations to provide backpacks filled with school supplies to local children in need.
The Foundation's goal is to provide 500 backpacks to children in need with the following new items:

Pens
Pencils
Notebooks (single subject)
Erasers (pink)
2 pocket folders (any)
Markers (10 count)
Crayons (24 count)
Colored Pencils (12 count)
Glue Sticks (washable)
To date, many backpacks and supplies have been donated. The Seigel family, patients of Summit Medical Group, are proud to support the Foundation's efforts with the Fill-A-Backpack program.
"Zachary and Owen were very excited to participate in this program and help local children in need. They each brought their own wallets with money they had saved to the store today, so they could each pay for the backpacks they personally selected and all the items to go inside," said their mother, Hazel Anne Seigel. "They even added a few items that were not on the original list like a pencil sharpener, a ruler and a pencil case. I bought and packed two additional backpacks for my husband Daniel and myself."
The new school year is just around the corner and it's easy to get involved, to buy supplies or to make a donation. The collection deadline is September 18, 2015.
For information on where to drop off donated supplies or to underwrite the cost of a back pack, please visit smg-foundation.org.