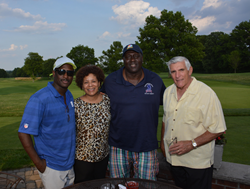 Perth Amboy, NJ (PRWEB) August 25, 2015
More than $190,000 was raised for Raritan Bay Medical Center, with hospitals in Old Bridge and Perth Amboy, at Raritan Bay Medical Center Foundation's annual Sports Classic golf outing. 116 golfers participated in the summer event sponsored by Atrium Health and Senior Living and held at the Plainfield County Club in Edison, NJ. The successful annual event was chaired by former medical center Board of Directors member Walter Brasch, of Little Silver, NJ, partner & chief business development officer for O'Connor Davies, LLP.
"2015 has been a great year for fundraising through our signature events. We had wonderful weather for the Sports Classic and attendance was great, and our annual Spring Art Show was also well-attended, having raised $70,000," said Raritan Bay Medical Center Foundation Executive Director Linda M. Hill, PharmD. "I expect this success to continue with the excitement I'm hearing for our 31st Annual Harbor Lights Ball with musical entertainment provided by Bernie Williams and his All Star Band, coming up November 14."
Raritan Bay Medical Center (RBMC) opened a new building the Medical and Surgical Pavilion at its Old Bridge facility in 2015. The unique building provides comprehensive services, including; physician offices, Joslin Diabetes Center, Affiliate at RBMC, The Surgery Center at Old Bridge, RBMC Surgical Suite, imaging center with 3D mammography and more.
Raritan Bay Medical Center Foundation, a private, non-profit organization, was established in 1985. Its mission is to raise funds in support of RBMC by working closely with community groups, the business sector and individuals. In today's challenging economic climate, fundraising is critical to the medical center's continued investments in state-of-the-art technology, clinical innovations, facility modernizations, community outreach and other vital programs that enrich the health of the community. Thanks to continued philanthropic support, the RBMC Foundation has raised millions of dollars in support of the medical center and funded many important projects.
To make a donation or to purchase tickets for the Harbor Light Ball, call 732-324-5374.