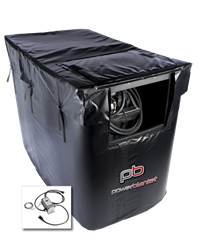 "Having a presence at this event is great for us," said Justin Montoya, Director of Business Development at Powerblanket. "The Mansfield D1 Expo is the perfect place to showcase and discuss the value of our innovative DEF storage heaters."
Salt Lake City, UT (PRWEB) August 26, 2015
Powerblanket recently announced that they will be showcasing their heating solutions at the 2015 Mansfield D1 Expo in Denver Colorado. The expo runs from August 24th to the 26th and is being held at the Westin Denver Downtown Hotel, located at 1672 Lawrence St.
This year marks the sixth annual running of the expo that is sponsored by Mansfield Oil (a leader in petroleum marketing and fuel supply. This year's expo is said to be an unforgettable event, incorporating education, hands on exhibitions, and networking. The keynote speakers for this year are highly-anticipated, industry leaders who will offer their insight on professional development and experience.
In addition to this, the 2015 event will offer the showcasing of thirty-one exhibitors from around the country, all present to share and network their contributions to the industry. Powerblanket will be present to exhibit the company's DEF heating products as well as a wide variety of standard and custom heating solutions that help companies save time and money, and increase efficiency in cold weather.
"Having a presence at this event is great for us," said Justin Montoya, Director of Business Development at Powerblanket. "The Mansfield D1 Expo is the perfect place to showcase and discuss the value of our innovative heating solutions for diesel exhaust fluid storage."
Powerblanket's patented approach to heat regulation and freeze protection allows users to keep DEF (and countless other materials) safe from the compromising effects of cold weather. Powerblanket will be displaying and demoing their DEF storage heaters at their booth for the Mansfield D1 Expo from August 24th through the 26th. Coupled with the DEF heating technology, Powerblanket will also showcase complementary smart controls. This, along with their new Class I Division 1 certification and a raffle for prizes, makes the Powerblanket booth the place to be.
More about Powerblanket
Powerblanket® started in 2005 in Salt Lake City, Utah with one goal – to solve your heating problems. Featuring patented GreenHeat™ technology, Powerblanket delivers a barrier of uniform, directional heat where it's needed most – preventing fluids from freezing and maintaining optimal temperatures. This Innovative heat-spreading technology insulates, protects, and maintains heat in a wide variety of applications. Discover how our GreenHeat™ Technology can dramatically improve your output…and bottom line. For more information about Powerblanket, click here.