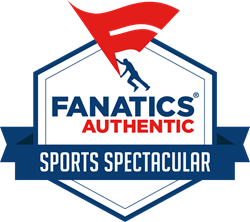 Bringing the Fanatics Authentic Sports Spectacular to a new city and creating a unique experience for more dedicated sports fans is always exciting, but hosting the show at FedExField will make this event even more special.
Fort Lauderdale, Florida (PRWEB) August 25, 2015
Fanatics Authentic is scheduled to stop in Washington D.C. on Friday, September 25th for the first time ever with its unique sports memorabilia show and will bring along more than 45 renowned athletes for the event. FedExField, home of the Washington Redskins, will host the Fanatics Authentic Sports Spectacular on the StubHub Club Level, bringing together the top names in sports and their devoted fans for three days of excitement free of charge.
From Friday September 25th through Sunday September 27th, the Fanatics Authentic Sports Spectacular will provide sports fans in the District of Columbia with a weekend full of events, including autograph sessions with current sports stars and legends of the game, plus over 100 tables of sports cards and collectibles. The Fanatics Show at FedExField will feature signings with some of the greatest Washington Redskins of all-time including John Riggins, Joe Theismann, Alfred Morris, Pierre Garcon, Sonny Jurgensen, Russ Grimm, and Rusty Tillman, who very rarely makes autograph appearances. In addition to more than 20 former and active Redskins players, the Washington D.C. Sports Spectacular boasts a lineup of prominent athletes from across all major professional sports. Local NHL superstar Alex Ovechkin, boxing legend Mike Tyson, and Baseball Hall of Famers Andre Dawson, Bob Gibson, Frank Robinson, and Ozzie Smith will also be in attendance. With athletes available for autograph signings and photo opportunities all throughout the weekend, fans of all loyalties will be able to get closer than ever to their favorite sports idols.
"Bringing the Fanatics Authentic Sports Spectacular to a new city and creating a unique experience for more dedicated sports fans is always exciting," said Ross Tannenbaum, President of Fanatics Authentic, "but hosting the show at FedExField in the home of a legendary football dynasty, will make this event even more special."
The Fanatics Authentic Show in Washington D.C. caters to every sports fan and collector looking to attend by offering various ticket options. General admission is free of charge every day of the show, while die-hard fans can purchase an all-inclusive VIP package for $99. In addition to complimentary general admission, parking at the stadium is free and all fans will have the opportunity to tour FedExField. The VIP experience includes an express line bracelet to minimize wait time for signings, 30 minutes early entry each day before the show opens to the public, one autograph ticket for an unveiled VIP guest, one random athlete autograph ticket, two Redskins signed 8x10 photos, and raffle tickets for a chance to win prizes. Tickets for autographs, inscriptions, and photo-ops are available for the athletes scheduled to attend. Prices vary.
As the first sports spectacular in Washington D.C. is highly anticipated by fans in the Washington D.C., Maryland and Virginia markets, Schulte Sports, Inc., a full service sports marketing and public relations agency, will spearhead the marketing and public relations initiatives for the Fanatics Authentic Sports Spectacular at FedExField.
"With successful Fanatics Authentic shows already established in other major cities, we are excited to help introduce the Fanatics Authentic Spectacular at FedExField," said Ray Schulte-President Schulte PR. "Fanatics constantly strives to provide fans with unique, exciting experiences and the FedExField show is an example of how they connect with fans and collectors alike."
For more information in regards to the Fanatics Authentic Sports Spectacular in Washington D.C., visit http://www.FanaticsAuthenticShows.com. Autograph tickets, authentication vouchers, and VIP packages can be purchase on the website or at the show, which will be located at 1600 FedEx Way, Landover MD 20785. Dealers interested in exhibiting please contact show director, Becky Batista via email at bbatista(at)fanatics.com or telephone at (954) 846-5247 and for corporate sponsorship opportunities, contact Ray Schulte via email at ray(at)schultesports.com or telephone at (410) 350-6226.
About Fanatics Authentic:
Fanatics Authentic, the premier online destination for authentic autographed collectibles, is the memorabilia division of Fanatics, Inc. As the nation's largest online retailer of officially licensed sports products, Fanatics provides sports fans with the ultimate shopping experience via its brands, including Fanatics, Fanatics Authentic, and FansEdge. The company powers the online shops for all major professional sports leagues, like MLB Shop and NFL Shop, as well as media brands (FOX Sports, Yahoo! Sports, CBS Sports, NBC Sports), and over 200 collegiate and professional team properties. Fanatics also possesses official league licenses from the MLB, NFL, NBA, MLBPA, NFLPA, NCAA Football, NASCAR, CLC, PGA, NLL, and AFL.
With the support of Fanatics' unparalleled reputation as a Top 50 Internet Retailer Company, Fanatics Authentic offers sports fans a trustworthy and reliable source for authentic memorabilia. By developing exclusive athlete relationships with many of the top athletes in sports, including David Ortiz, Colin Kaepernick, Peyton Manning, and Kris Bryant, Fanatics Authentic boasts a product offering unlike any other manufacturer. Due to a large distribution network, Fanatics Authentic provides fast shipping to sports fans nationwide, and is on the ground, leading the way for product procurement to deliver 100% authentic items in hot markets and more.
Fanatics Authentic is proud to partake in exclusive game-used relationships with professional teams, providing fans and collectors access to same-day, game-used merchandise. These rare products are acquired by an expert member of the staff and authenticated onsite. In addition, the Company has an in-venue division that retails merchandise throughout stadiums nationwide. The Fanatics Authentic headquarters is located in Sunrise, Florida. Its 175,000 square foot facility is home to a premier custom framing, manufacturing, and engraving operation that is focused on delivering the highest quality products in memorabilia. For more information, visit: http://www.FanaticsAuthentic.com