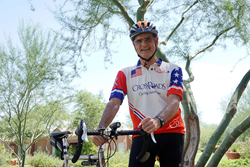 "You realize you're not getting any younger, and when you dream of doing one of these things, it's kind of on your mind until you get it done."
Phoenix, Arizona (PRWEB) August 26, 2015
A Valley man recently completed a 3,400-mile cross country bicycle trip, defying his age with the help of a Phoenix orthopedic surgeon.
For years, Scottsdale resident and avid cyclist Bob Mountz, 75, had dreamed of crossing the country on his bike. And for years, Mountz had struggled with arthritis that had been taking a toll on his left hip.
Mountz found himself at OrthoArizona - Arizona Orthopaedic Associates to discuss joint replacement surgery with David M. Ott, board-certified orthopedic surgeon and president of the Phoenix-based practice. Itching to achieve his lifelong bucket list goal, Mountz left knowing it would be possible, thanks to a procedure called an anterior hip replacement.
"As modern medicine progresses, individuals are able to lead healthier, more physically active lifestyles into their later years now more than ever," Dr. Ott said. "Procedures like the anterior hip procedure help make this possible."
Dr. Ott, who specializes in arthroscopic and joint replacement surgery and has performed more than 800 anterior hip replacements, suggested the surgery - a less invasive approach that spares the muscles by navigating between natural tissue separation to replace the damaged joint.
After undergoing the anterior hip replacement surgery, Mountz set his sights on successfully completing the 3,400-mile journey across the country.
"The surgery was marvelous and the recovery was magnificent," Mountz said. "After about six weeks, I was able to ride very well again and get back into training mode. I found that everything was working perfectly."
A little over a year later, Mountz was ready to tackle his dream. On May 10, 2015, he dipped the back wheel of his bike in the ocean water along the shores of Manhattan Beach, Calif., as the ride began. Seven weeks later, he completed the journey by treading into the water at Revere Beach in Boston.
Mountz and a group of 17 or so other cyclists in the CrossRoads Cycling Adventures group covered 3,400 miles in the two-month period. For 49 days, they rode for 5 to 10 hours to cover up to 100 miles each day, stopping only to maintain the bikes, eat and rest.
The terrain was tough, Mountz said, as the group was challenged at times to climb mountains and maneuver steep descents, but not once did he experience any problems with his hip.
"You realize you're not getting any younger, and when you dream of doing one of these things, it's kind of on your mind until you get it done," said Mountz, who was back on his back just weeks after the surgery. "I had always dreamt about making a complete crossing in one leap, so that's exactly what I did."
Despite a few scrapes and bruises from a fall at the end of the ride, Mountz completed the endeavor injury free.
"When I got back, I made an appointment with Dr. Ott," Mountz said. "He said a lot of people don't think they can do these types of things with a new hip. But, he did an x-ray of the surgery area and couldn't find anything wrong at all.
"My experience with Dr. Ott couldn't have been better. I couldn't have done better anywhere else."
For more information on OrthoArizona - Arizona Orthopaedic Associates, please call (602) 631-3161 or visit http://www.aoa.md. Find out more on Facebook at http://www.facebook.com/aoaatgateway and Twitter at http://www.twitter.com/aoaatgateway.
About OrthoArizona - Arizona Orthopaedic Associates
OrthoArizona - Arizona Orthopaedic Associates strives to improve the quality of life of its patients and their families through outstanding orthopedic care. OrthoArizona - Arizona Orthopaedic Associates is committed to excellence by pledging to provide the highest quality of orthopedic care possible. Along with the treatment of immediate or chronic problems, top-rated and board-certified orthopedic surgeons strive to integrate the doctrine of prevention in all treatment plans as a way to alleviate possible future difficulties.