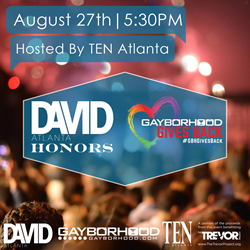 Atlanta, GA (PRWEB) August 25, 2015
Gayborhood, a LGBTQ organization geared towards highlighting gay friendly businesses, is pleased to announce a celebration highlighting their inaugural fundraising success supporting "The Trevor Project."
The Trevor Project is the nation's leading resource for LGBTQ Youth In-Crisis providing information, resources, housing, and anti-harm/suicide counseling to those in need. The organization became the first cause to be supported by "Gayborhood Gives Back." Initial fundraising by Gayborhood Gives Back for The Trevor Project reached a total of $20,732.09. The funds were raised through corporate donations, fundraisers, and donations from private individuals.
Gayborhood will be honored for their monumental achievement at a cocktail party sponsored by Atlanta magazine David Atlanta on August 27, 2015. The event will take place at TEN Atlanta, located at the corner of 10th and Piedmont, from 5:30 pm until 8:30 pm.
SVEDKA Vodka will be on hand to provide everyone with their first drink, compliments of Gayborhood. Additionally, those in attendance will have the opportunity to win two VIP passes to Pride, Atlanta, scheduled for October 10-11, 2015.
Gayborhood has long been a partner of various charities across the country. "We are proud to have raised such a substantial amount in our inaugural year of Gayborhood Gives Back," said Paul Beauchamp, Marketing Manager for Gayborhood, "The mission of Gayborhood has always been to support local businesses and empower the local gay community. We support charities in every city, but we wanted to do something bigger on the national scale."
About Gayborhood:
Gayborhood is a product of Carma Productions, Inc, a company based in Atlanta, GA. Operating actively in Atlanta, Austin, Chicago, Dallas, Denver, Ft. Lauderdale, Houston, Los Angeles, Long Beach, Miami, Nashville, Orlando, Phoenix, Portland, Salt Lake City, San Diego, and Tampa. The company has sales professionals researching, meeting with, and adding LGBTQ-Friendly Businesses daily. Businesses can also be added for free to the site by being referred in by users. The combination of sales and referrals ensures the reach of Gayborhood is constantly growing.
Gayborhood lives in the spirit of their motto, "Support The Businesses That Support You." By empowering the LGBTQ community to patronize gay-friendly businesses, we can make tomorrow a better place for our community.
Learn more about Gayborhood at http://www.gayborhood.com