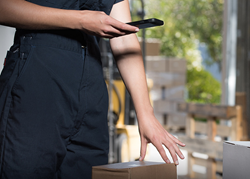 Our new Proof of Delivery solution offers equivalent scanning performance to dedicated scanners at a fraction of the cost.
San Francisco, CA (PRWEB) August 26, 2015
Scandit, developer of the leading software-based barcode scanning solutions for smartphones, tablets and wearable devices, today announced the launch of a new mobile Proof of Delivery (POD) solution designed to improve efficiency for an increasingly mobile workforce by enabling the use of smartphones and wearable devices to keep track of pickups and deliveries. Companies using Scandit's solution benefit from a single app that supports all driver tasks and enterprise-grade barcode scanning that eliminates the need for costly dedicated barcode scanning devices.
The Scandit Proof of Delivery solution includes a customizable and easily deployable proof-of-delivery app (for iOS and Android) combined with Scandit's Enterprise Mobility and Data Capture Cloud, and easily integrates with existing enterprise IT infrastructures. It supports all delivery tasks, including navigation, geotagged signature capture and barcode scanning equivalent to dedicated devices. The solution can easily be distributed to corporate devices or downloaded by third-party contractors ensuring that everyone in the delivery chain — drivers, contractors and even part-time workers — can track deliveries in realtime.
"The mobilization of today's workforce can result in significant efficiencies and lower costs across the entire supply chain, especially when combined with enterprise-grade barcode scanning and data capture," says Samuel Mueller, Scandit CEO. "Our new Proof of Delivery solution offers equivalent scanning performance to dedicated scanners at a fraction of the cost, resulting in a lower total cost of ownership (TCO) over dedicated device alternatives."
Scandit's Proof of Delivery solution is designed to extend the Enterprise Resource Planning (ERP), Transportation Management Systems (TMS) or Warehouse Management System (WMS) to the mobile workforce of today's logistics providers, express couriers and postal carriers. Its intuitive mobile workflows fit seamlessly into existing delivery processes, eliminating paperwork, reducing errors and increasing productivity across the workforce.
To schedule a demo for Scandit's Proof of Delivery Solution, contact a Scandit representative.
About Scandit
Scandit delivers high performance mobile solutions for smartphones, tablets and wearables, designed to transform consumer engagement and operational efficiency for today's forward-looking enterprises. Scandit solutions are built on its patented software-based barcode scanner and are used in a variety of industries including retail, manufacturing and logistics. With nearly 20,000 licensees in more than 100 countries, Scandit processes more than 200 million scans per year and develops enterprise-grade solutions for many of the world's most prestigious brands including Ahold, Coop, The Home Depot, NASA, Saks Fifth Avenue and Verizon. Founded in 2009 by a group of researchers from MIT, ETH Zurich and IBM Research, today Scandit and its network of global integration and technology partners are pushing the boundaries of mobile AIDC (automatic identification and data capture), delivering groundbreaking identification and data capture applications to customers. For more information visit http://www.scandit.com.