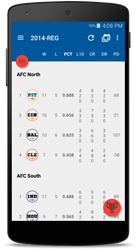 We built this for ourselves as much as we did for the 100+ million NFL fans and 32 million fantasy players who wish they could have greater and more centralized access to the data they need. We've put it all in one place so fans can focus on the game."
WATERLOO, ON, CANADA (PRWEB) August 26, 2015
OnPoint Sports is a sports technology start-up that is bringing the power of real-time sports data to everyone from casual enthusiasts to sports fanatics and fantasy players alike. With over 1000 individual statistics available now for the NFL, all updated in real-time and more sports being added in time for the beginnings of their respective next seasons, it is the most powerful and fastest sports data engine on the planet.
OnPoint's goal is to add some of the fun back into the often-grueling data analysis that comes with being a sports fan or fantasy player. Available for download in the Google Play store beginning on September 8th, it offers the fastest delivery of real-time data - an average of three to five seconds from the time an event actually takes place on the field. Users can subscribe to the teams and players of their choice and receive push notifications when there is an update on anything they follow. This lightning-fast access to new data empowers fans to make fantasy plays using the most up-to-date information so they can stay on the leading edge, even if they aren't able to watch the game.
The founders of OnPoint set out to raise the bar in the sports data category. The most popular incumbents offer just 10-20 data points per sport to OnPoint's 1000+. In addition to offering a wealth of data and faster delivery of updates, the OnPoint team has built a platform that is easy and enjoyable to use, going a step further by analyzing and categorizing the wealth of raw data so users don't have to. The app is integrated with Twitter, allowing fans to get live streams from the players and teams they follow.
Elisha Ferrara, the CEO and one of three founders of OnPoint Mobile had this to say on the subject of creating a new standard in the way people get their sports data: "We're all sports fans and play in fantasy leagues. We got tired of dealing with sub-par apps to get our information. In addition to being huge sports fans, we're also developers. When we realized that we could make vast improvements on what is currently available with what we already knew about programming, we couldn't ignore the opportunity. We built this for ourselves as much as we did for the 100+ million NFL fans and 32 million fantasy players who wish they could have greater access to the data they need without the added work of independently gathering it from multiple sources. We've put it all in one place so that fans can focus on the game."
After closing a seed round in just 60 days, OnPoint Mobile has launched its first data engine in the Google Play Store for early access to the media and a small group of beta testers. OnPoint Sports for Android will be available to the public for download on September 8th, 2015, starting with full access to NFL data in time for the regular season, which begins on September 10th.
Click here to download OnPoint Sports: https://play.google.com/store/apps/details?id=com.onpointmobile.onpoint
About OnPoint Sports
OnPoint Sports is the new standard in mobile sports statistics. With over 1000 data points per sport, OnPoint is the most comprehensive sports data engine on the mobile market. The perfect companion for casual sports enthusiasts, superfans and fantasy players, all the data you need is now in one place. Subscribe to the teams and players you care about and receive push notifications within 3-5 seconds of the event taking place in real-time. Elisha Ferrara, Vitaliy Kondratiev and Tyler Lyn, all graduates of the Computer Science program at McMaster University created OnPoint Sports with the intention of disrupting the mobile sports data market with a focus on more data, better analysis, quicker updates, intuitive design and ease of use so users can stay in the game.
END
###
Media Inquiries: Lisa Hillyard
lisa(at)onpointmobile(dot)ca