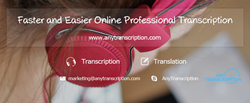 AnyTranscription's service is so thoughtful and has avoided unnecessary waste of cost, which is an affordable choice. Jack Smith
New York, USA (PRWEB) August 26, 2015
AnyTranscription Services are touching every ambit of corporate, education and cultural lives in a big way, amongst many others. Transcription technology has not only helped to break the cultural and language barriers, but has also proved to be a tremendous boon for the hearing impaired.
Transcription involves writing or printing the spoken words, that is a voice to text. Every type of audio is suitable for transcription. It helps in understanding speech that is not coherent or spoken too fast or speech that is in languages alien to a tribe. There are several companies in the fray for transcription services. AnyTranscription is a leading name in the arena.
"AnyTranscription has been one of the leading providers for high effective online voice to text services with the accuracy of 100%," says Jane, Project Director, AnyTranscription Services. "In spite of complicated or specialized project, we will strive to provide our best services to make you satisfied, and we have been highly praised by customers around the world."
At AnyTranscription, clients just need to click "Transcription Services", upload their file, select the required service and make a simple online payment, and AnyTranscription transcriptionists can get to work straight away. All the client has to do is sit back, track their order and wait for it to be finished.
There is no room for errors in transcription. AnyTranscription proofreads each of their projects diligently before delivering to the clients. It also offers extremely good standards of accuracy of transcription even in instances where audio quality is poor. The company offers customized audio transcription services spanning over all the major and minor languages - English, Chinese, Spanish or other language services, AnyTranscription guarantees to deliver client's transcribed file by the specified deadline with a satisfactory quality.
"We are here to liberate you from the perpetual job of transcription," says Jane.
About AnyTranscription
AnyTranscription Services is a team of professionals who have been in this line of work for many years and they know what the best service for their client is. AnyTranscriptions, with its online transcription services is helping several corporate, educational institutions, filmmakers, documentary makers and several of their like to get their message be communicated to the target audience effectively.
Getting transcription services faster and easier Online was never so easy. They use both people-powered review as well as the computer software so that client get the best transcription.
For more information, please visit http://www.anytranscription.com/.