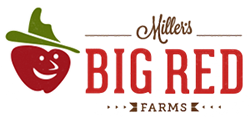 HPP Detroit takes the capital barrier away from mid-sized processing companies to utilize HPP and core resources to bring preservative free refrigerated products to homes in Michigan
Washington, Michigan (PRWEB) August 26, 2015
BIG RED's cider mill in Washington, Michigan has been making award winning apple cider for over 50 years using the perfect combination of just-picked apples and the passage of time. After 2012's harvest Millers Big Red Orchards began reinventing itself.
"Part of the reinvention," states Jeff Mulholland, Partner, "was the expanding of our Apple Cider brand to include several flavor profiles such as Apple & Peach, Apple & Orange, Apple and Blueberry. We have seen the explosion of the cold press juice market and believe that blended all natural apple ciders can carve out a piece of this space."
"Big Red's cider came to us several months ago looking for a one stop location, where they can have the product produced, the product High Pressure Processed and prepared for market," stated Keith Sirois, Managing Partner HPP Detroit. "The apple business is big in Michigan, fruit is very big in Michigan. We believe our facility can be a vehicle for not only Big Red, but for many of these innovative fruit farms looking to enter the High Pressure Processed Juice business."
HPP Detroit is a Next HPP Showcase serving the Midwest United States. Next HPP is in the process of negotiating for the fabrication and assembly of its equipment in and around the State of Michigan. "We feel this is very important for Next HPP to be part of the economies that we place our Showcases", states Gerald Ludwick, Director of Next HPP, " Having our showcases helping business's grow and utilize High Pressuring Processing is very rewarding."
BIG RED is a farm revived, restored and ripe for discovery. It's a place where fifty years of tradition meets a new generation yearning for a little piece of the country, a savory taste of the farm and an afternoon knee-deep in a pumpkin patch.
We have acres and acres of orchard, farm and field waiting to deliver you a seasonal bounty of sweet fruit, fresh vegetables and tasty herbs.
Our new Marketplace is brimming with farm fresh produce, made-from-scratch baked goods, gourmet condiments and other exceptional local products. While you're here, experience the aroma, sights and sounds of cider making and the taste of homemade donuts and caramel apples. Have a picnic, visit the petting farm, take a hayride, get lost in a corn maze, climb a straw mountain and even pick your own fruit.
HPP Detroit's model is very unique, allowing for internal customers to utilize HPP, as well as external tolling customers. The facility is being built for 3rd Party commissary food processing and 3rd Party cold press juices. HPP Detroit is one stop location, where the product is produced, the product is High Pressure Processed and prepared for market.
About NEXT HPP
Next HPP is small, nimble, and unique company that can quickly respond to this rapidly changing industry. We design to the unanswered current and future needs of the industry. All NEXT HPP machines come standard with automatic loading and unloading, tractability, reporting, intuitive preventive maintenance, and simplicity. Service is paramount and we've designed non-proprietary parts at every turn. We focus on local support, where you live and work.
NextHPP Will Unlimit Your Process