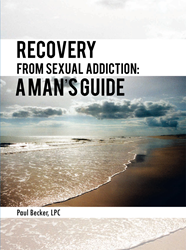 It is hard for a sexually addicted man to visualize what life will be like further down the recovery road. I like to view the road as one with 'potholes.'
(PRWEB) September 14, 2015
Resembling exorbitant use of drug and alcohol, sexual addiction is known to have antisocial ramifications. In fact, to the sexually addicted, enslavement to sex becomes the most powerful force in his or her existence. According to Dr. Patrick Carnes, a leading authority in sexual health, almost half of males throughout the world will experience unacceptable sexual behavior at certain points of their earthly existence. Adverse sexual behavior typically tends to intensify over time, making recovery more challenging. Having an informed appreciation of the causes of male obsessive sexual behavior and an awareness of treatment options is what the book, Recovery from Sexual Addiction: A Man's Guide, by Paul Becker, LPC, is all about.
Primarily aimed at giving men a good understanding of unwanted sexual behavior, Recovery from Sexual Addiction offers illuminating answers to their compelling questions. They include the need to know how and when sexual addiction began, the characteristics of a sexually addicted person, the role of the sex addiction cycle and acting out ritual in fostering addictive behavior, and whether there is hope for recovery. The book also offers insights into the barriers to recovery, such as the function of anxiety, isolation, codependency, depression, procrastination, sexual thinking and fantasy, and anger in pursuing offensive sexual behavior. This work focuses on these questions and much, much more.
Recovery from Sexual Addiction is fitting passage into a life of recovery from wanting to access pornography, prostitution, illicit affairs, masturbation, and other forms of sexual indecency. Paul Becker explains that sexually addicted men tend to live a life based on lies. All too often sex addicts believe they will never be caught, they are not hurting anyone, and they can stop when they want to. As part of counseling, these lies are exposed to the light of day and reality sets in.
Good thing, though, that an increasing number of sexually addicted males are fortunate to renew and dedicate their lives to recovery. The author shares that more and more men who have read Recovery from Sexual Addiction adopt a high level commitment to maintain sexual sobriety.
However, Recovery from Sexual Addiction is not meant to replace counseling, nor is it intended to take the place of a twelve step program. To be free from adverse sexual behavior typically necessitates the help of a therapist or counselor who is trained to see beyond a male sex addict's grey areas and guide him on his recovery journey.
Title: Recovery from Sexual Addiction: A Man's Guide
Author: Paul Becker, LPC
Genre: Self-help
ISBN: 978-1-4685-7717-4 (sc)
ISBN: 978-1-4685-7716-7 (e)
Pages: 133