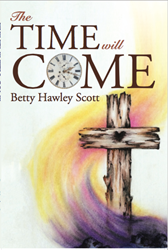 God has called me to write, encourage, and comfort those who have been through the same thing as me. I want people to know that God has not forgotten or deserted them
Austin, Texas (PRWEB) August 25, 2015
Abuse can come in many shapes and forms. While most Americans are educated about physical abuse and the signs that stem from it, many have overlooked another form of abuse that is just as deadly.
Currently, 36 percent of women will go through psychological abuse in their life. When women experience this emotional abuse they can potentially go through depression, anxiety, lack of self-esteem, and much more
If anyone understands the issue of psychological abuse, it would be Betty Hawley Scott. In her new book, The Time Will Come, Scott shares the dark details of her past from the emotionally abusive relationship with her own mother.
"Writing this book has been a very humbling experience because I have been required to expose our sins, faults, and the horrible privacy of emotional abuse," Scott said.
The Time Will Come offers encouragement and comfort to those who are in an emotionally abusive relationship and to those who are trying to recover and heal from a past abusive relationship. In her book, Scott continually brings up spiritual truth and offers Christian guidance on how to deal with the tough issues and hard people in your life.
"God has called me to write, encourage, and comfort those who have been through the same thing as me. I want people to know that God has not forgotten or deserted them," Scott said.
The Time Will Come is an authentic encounter that will change perspectives and lives. Through the scripture, raw material, and prayers throughout the book, readers will feel refreshed after reading Scott's words.
For more information, visit: http://www.bettyhawleyscott.com/
The Time Will Come
By: Betty Hawley Scott
ISBN: 978-1-4908-6173-9
Available in softcover, hardcover, e-book
Available on Amazon, Barnes & Noble and Westbow Press
About the author
As a board member for HOST (Helps Others by Serving Together), Betty Hawley Scott is more than involved in making her community a better place. Having previously been through psychological abuse in past relationships, Scott is telling all in her new book – "The Time Will Come." From her personal stories, Scott hopes to encourage others than have been where she was. Now residing in Austin, Texas, Scott enjoys spending time with family and traveling
# # #
**FOR IMMEDIATE RELEASE**
For review copies or interview requests, contact:
Katie Wenclewicz 317.602.7137 kwenclewicz(at)bohlsengroup(dot)com