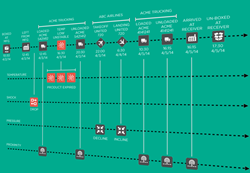 Our initial investors have been very enthusiastic about the strong market demand for our technology platform, combined with a very positive regulatory environment
Reston, Virginia (PRWEB) August 26, 2015
The Virginia-based smart data and MicroAnalytics Software-as-a-Service (SaaS) company focused on supply chain logistics intelligence, today announced it has closed an additional $1 million in seed financing led by strong demand from existing angel investors. This culminates their seed investment round at a total of $3.67 million dollars. The company is now working towards the closure of their Series A funding round, with current interest from several institutional and strategic investment groups.
CargoSense is the only solutions provider capable of providing the logistics industry with Black Box insight for individual shipments. By driving intelligence into the cargo itself, customers can understand the environmental factors that may impact sensitive goods throughout the entire supply chain. Powered by a centralized Application Programming Interface (API) and industry-specific SaaS applications at the edge, CargoSense can leverage the latest in sensor technology to reduce product loss, transportation & packaging costs, and optimize quality control processes. The CargoSense solution was given the 2015 IoT Evolution Asset Tracking Award by Crossfire Media.
"Our initial investors have been very enthusiastic about the strong market demand for our technology platform, combined with a very positive regulatory environment," said CargoSense CEO Rich Kilmer. Rich continued to note, "The industry is demanding more robust and relevant information within specific contexts in order to truly control and optimize critical functions to cut loss, reduce risk and enhance both product and service delivery. We are focused on expanding our solutions to encompass the complete supply chain system in order to monitor environmentally sensitive cargo in both mobile and fixed environments"
CargoSense will use the incremental funding to further accelerate its rapid growth by driving new product innovations and customer acquisition activities through focused sales and marketing efforts.
About CargoSense
CargoSense (http://www.cargosense.com) is a smart-data and MicroAnalytics Software-as-a-Service (SaaS) company founded to create solutions that optimize logistics networks – in healthcare, food, medical devices and other industries with complex supply chains. The company has created the first collaborative supply chain software that operates using tablet, Web, and mobile devices, collecting data with the newest generation of sensor technologies. Founded by serial entrepreneurs with a history of building successful software services using agile development and customer-focused design, the company is based in Reston, Virginia.
Investor Contacts
Rich Kilmer
rich(dot)kilmer(at)cargosense(dot)com
P: (571) 449-7775
MEDIA CONTACTS
craig(dot)montgomery(at)cargosense(dot)com
P: (571) 234-1536