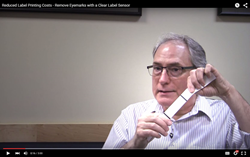 "At the start, they were apprehensive about it" says Baker about TechniPac's initial reaction. "But they were shocked at how smoothly and quickly everything got up and running."
St. Paul, Minn. (PRWEB) August 26, 2015
Clear label sensing was developed by Lion Precision in the mid 1990s. Yet many packaging lines still use black "eyemarks" on clear label webs to trigger optical sensors. Before clear label sensors, eyemarks were necessary because optical technology, which depends on contrast or opacity differences, is incapable of detecting clear label edges. It seems many packagers avoid buying a clear label sensor because it is considerably more expensive than an optical sensor. An optical sensor can be less than $100 while clear label sensors start around $600. But what is the cost of eyemarks?
Mark Kretschmar of Lion Precision worked with Rebs Marketing and TechniPac Inc. to determine the cost savings of using a clear label sensor and avoiding eyemarks. Brian Baker of Rebs Marketing provides labels and other print and marketing products and services. Baker recommended TechniPac as a site for the case study as he regularly delivers eyemarked labels for a particular product they package. So Lion Precision provided a clear label sensor for the case study.
"At the start, they were apprehensive about it," says Baker about TechniPac's initial reaction. "But they were shocked at how smoothly and quickly everything got up and running."
After installing and verifying the operation of the clear label sensor, the first order of 2.3M labels was placed. The price difference between the order with and without eyemarks was $7,600. The list price of the clear label sensor was $795. The labels are ordered about twice a year with the potential of increasing order frequency. The minimum annual savings is $15,000. Chad Flitter of TechniPac summarized it this way, "Lots of money was saved."
"I understand the reluctance of some to pay over $700 for a clear label sensor when their $100 optical sensor is working fine with the eyemarked labels," says Kretschmar. "What they rarely take the time to think about or investigate is the cost of the eyemarks."
Clear label sensors have a life expectancy over 10 years. In this case, over $150,000 would be saved over that time.
A three-minute video featuring interviews with the case study participants, as well as more details on the story, is available at a website dedicated to the study: http://www.noeyemarks.com.
Lion Precision, founded in 1958, released the world's first clear label sensor in 1995. Since then, the technology has advanced resulting in the latest version, the LRD6300 with digital technology and one-button setup. The company's primary product line is precision noncontact displacement sensing using capacitive and eddy-current technologies.
For more information, contact Lion Precision:
Lion Precision
563 Shoreview Park Road
St. Paul, MN 55126 USA
651-484-6544
http://www.lionprecision.com
info(at)lionprecision(dot)com